In the first half of 2022 mergers & acquisitions in the beverage alcohol space showed strong levels of activity with strategic buyers continuing to invest behind strong consumer trends including whiskey and RTDs.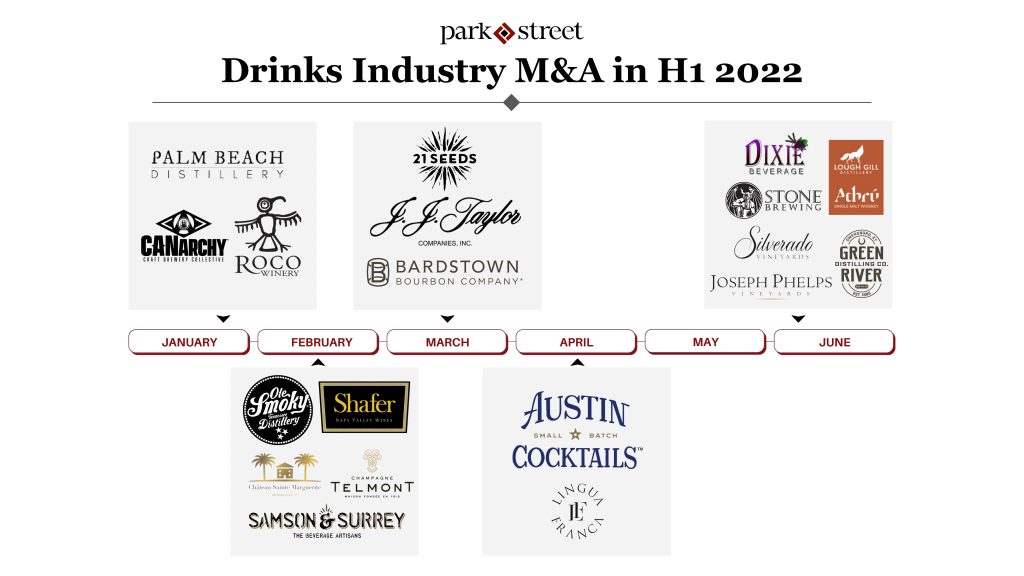 There were 20 noteworthy beverage alcohol deals in H1 2022, representing an increase compared to the first half of 2021 when there were 16 deals. This series of deals was led by spirits (8) and wine (6) and distribution (3), while the beer category (2) and ecommerce (1) made up the remaining count.
While there were no standout strategic beverage industry players with multiple acquisitions this time around, there was a noticeable uptick in equity fund sales including Ole Smoky, Bardstown Bourbon Company, and Shafer Vineyards.
This period reflected a need to establish e-commerce compatibility and cater to high volume production of canned beverages. Notably, we also saw an emergence of private equity involvement in this space, with these firms continually reaching for wine producers.
Spirits Sector Deals
Palm Beach Distillery Sells Majority Stake to Victor George Spirits

Austin Cocktails Acquired by Constellation Brands

Ole Smoky Sells Majority Stake to Private Equity Firm Apax Funds

Samson & Surrey Acquired by Heaven Hill

21 Seeds Flavored Tequila Acquired by Diageo

Bardstown Bourbon Company Acquired by Investment Firm Pritzker Private Capital

Ireland's Lough Gill Distillery Acquired by Sazerac

Green River Distilling Acquired by Bardstown Bourbon Company
Wine Sector Deals
Oregon winery Lingua Franca winery sold to Constellation Brands

Roco Winery Acquired by Santa Margherita USA

Château Sainte Marguerite

Sells Majority Stake to

Pernod Ricard

Shafer Vineyards Sells to Korean Firm, Shinsegae Property for $250 Million

Silverado Vineyards Acquired by Foley Family Wines

Joseph Phelps Acquired by Moet Hennessy
Beer Sector Deals
Canarchy Craft Brewery Purchased by Monster for $330 million

Stone Brewing Acquired by Sapporo USA for $165 million
Distribution Sector Deals
Major Brands Acquired by Breakthru Beverage Group

J.J. Taylor's Minnesota Beer Wholesaler Acquired by Breakthru Beverage Group

Dixie Beverage Company's Wine and Beer Business Acquired by Johnson Brothers
Ecommerce Sector Deals
Provi Merges with SevenFifty for Expanded B2B Marketplace



Add The Timeline To Your Website:
If you'd like to embed the image above on your website, please feel free to copy the HTML code provided below and paste it into your blog post:
<a href="https://www.parkstreet.com/"><img class="alignnone size-large wp-image-69247″ src="https://www.parkstreet.com/wp-content/uploads/V3-MA-Graphic-1-1-1024×576.jpg" alt="Alcohol Beverage M&amp;As in 2022″ width="1024″ height="576″ /></a>