US Alcoholic Beverage Market – Overview
The U.S. beverage market is a $331bn industry with alcoholic beverages making up over 50% of the revenues with $189bn in sales. The alcoholic beverage market is almost equally split between malt beverages on the one hand and wine and spirits products on the other hand. Distilled spirits make up around 35% of the sales of alcoholic beverages. The largest sub-category of spirits is vodka with 33% of cases sold, followed by whiskey with 23% and rum with 13%. Wines make up around 14% of the alcoholic beverage market. 71% of the cases sold are domestically produced wines and 21% are imported wines. Champagnes and sparkling wines make up around 5% of the wine volume.
US Market Universe of Wine and Spirits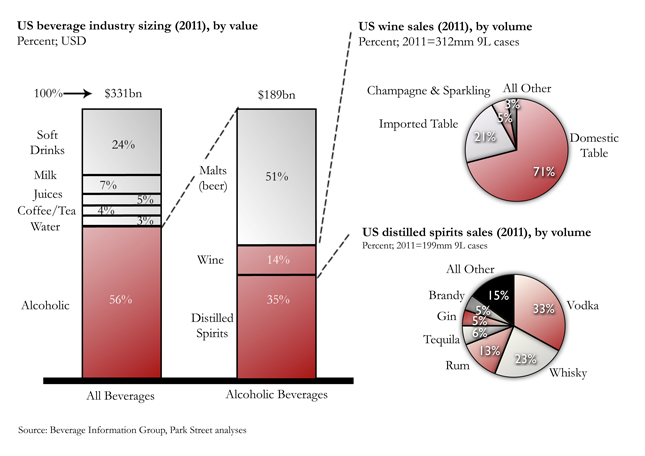 Industry has been growing with revenue outpacing volume on the spirits side
The wine and spirits industry has experienced steady growth over the last ten years. The spirits segment volume has been growing at a CAGR of 3% over the last 10 years while revenues outpace this growth with a CAGR of 6%. The wine segment has been growing steadily at a CAGR of 3% over the last ten years in both volume and revenues.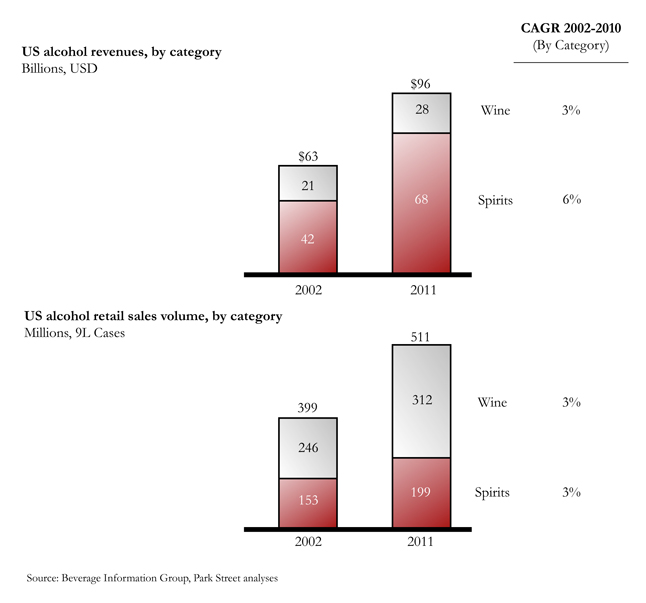 Open States are Approximately 80% of the volume for both wine and spirits
Around 80% of the volume in the US is sold into open states while around 20% are sold into control/monopoly states. The largest markets are California, Florida and New York.
Looking For An Importer, Distributor or Back-Office Solution?
Find out why Park Street is a leading distributor and solution in the wine & spirits industry.
Contact us to find out exactly what we can do for your brand.
---