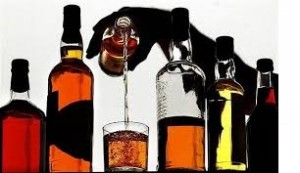 Distilled spirits dollar sales growth was largely-in line with historical trends in the most recent four-week period, with revenues +4.4% and volumes +2.4%. Bourbon's outperformance continued, though a modest deceleration was evident, as vodka trends improved some.
Bourbon Outperformance Continues, Vodka Recovers Some. In the four weeks ended November 8, 2014, bourbon category sales were up 9.5%, a modest deceleration from the +10.0% growth seen in the 12-week period. Volumes were up 4.9% (below the +5.7% seen over the 12-weeks), as price/mix was a bigger contributor to category sales (+4.6 pts). Vodka category sales showed some improvement in the four-week period, with dollar sales +4.5% (vs. +3.9% in the 12-weeks), while volumes were up 3.3% (better than the +3.1% in the 12-weeks), such that the contribution from price/mix of 120 bps, was ahead of the +80 bps contribution seen over the 12-weeks.
Brown-Forman Growth Remains Best in Class. While slower growth in the bourbon category was evident in BFB's brand-level results, the total company delivered sales growth of +6.1%, the best among the major distilled spirits manufacturers. Core Jack Daniel's grew 7.3%, Tennessee Honey grew +6.6%, both of which represented modest decelerations. Meanwhile, sales for premium Woodford Reserve (+43.6%) and Gentleman Jack (+14.6%) both accelerated in the month. Southern Comfort, which brand has been challenged, posted its second month of positive dollar sales growth (+0.8%), after five consecutive months of declines.
Constellation Brands Benefiting from Vodka Trade-Down. STZ's dollar sales were up 3.8% in the four-week period, a slight deceleration from the 4.2% growth seen last month. Svedka continued to be the best performer in STZ's portfolio, with dollar sales up 4.7% (though YTD dollar sales of Svedka are up 2.9% vs. +10.6% in the year-ago period).
Diageo, Pernod and Beam Suntory Continued to Underperform. Diageo's dollar sales were up 1.7% (vs. +2.8% last month), while Pernod's dollar sales were up 1.8% (vs. +3.4% last month). For Diageo, key drivers of the deceleration included declines in Johnny Walker (-1.6%), Captain Morgan (-0.1%) and Bushmill's (-14.7%, though the company recently announced the sale of this brand). Offsets included continued robust growth for Ciroc (+18.3%), improved trends for Smirnoff (+2.8%), and very robust growth for Bulleit (+53.5%). For Pernod, Absolut vodka remained a drag in the month (with dollar sales down -4.1%, vs. -2.0% last month), though Wild Turkey continued to benefit from the bourbon renaissance (+5.8%).
BEAM's dollar sales were up just 0.7% (vs. +2.7% last month), as the core Jim Beam offering grew only 1.7%. while Jim Beam Black, Devil's Cut and Red Stag all remained in decline. Beam's premium bourbon's fared better, with Maker's Mark (+7.3%) and Knob Creek (+39.5%) both posting solid growth. Pinnacle vodka continues to remain challenged, with sales down 7.0%, while Courvoisier also posted a sales decline (-6.7%), after having grown impressively over the course of the year (+13.4% YTD).
Source: The Cowen Insight