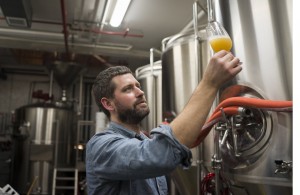 It is 3:30 p.m. on a Saturday, but the din at Threes, the newest brewpub to join the city's craft-beer scene-just a short walk from Barclay's Center in Brooklyn-screams midnight.
There is a wait for seating. Big wooden tables are jammed with a lively, diverse crowd sampling Threes' house-produced brews-including an IPA described on the menu as "juicy, pine, citrus, fresh bread, soft bitterness," and a saison listed as "rustic, melon, grain, hay." Also on offer: exotic brews like tripel and Flanders red from other craft producers and food from local purveyors who rotate in "residence" in the kitchen.
"It's too early to call this success," said Justin Israelson, one of three owner-partners in Threes, which opened to the public in December after a four-year ramp-up.
It isn't too early to call it part of a New York brewing renaissance. Not since the early 1960s, when nearly 10% of the nation's beer was produced in Brooklyn, has the city seen this much brewing activity. Threes is one of eight new craft-beer production facilities that opened within the five boroughs in 2014.
The newcomers aren't just in the artisan mecca of Brooklyn. Threes, Other Half Brewing Co. and Folksbier Brewery are, but Transmitter Brewing and Finback Brewery set up shop in Queens; Gun Hill Brewing Co. and the Bronx Brewery operate in the Bronx; and Flagship Brewing Co. opened on Staten Island. In all, more than two dozen breweries and brewpubs, which make at least some of their offerings on premises, have opened around New York City in the past 30 months.
They are launching against some pretty steep odds-not the least of which are astronomical real-estate costs. Two renowned Manhattan brewpubs, Heartland Brewery in Union Square and 508 Gastrobrewery in West Soho, closed their doors in late 2014, while many of the newly opened facilities situated themselves on the outer fringes of the outer boroughs.
Brewery startup costs in New York City can run in the neighborhood of a million dollars-about twice as much as a comparable venture in Chicago or Atlanta, estimates Bart Watson, chief economist of the Brewers Association, a trade group. Some of the area's new brewers said they had to craft their beer elsewhere-sometimes for years-to raise the startup capital and ride out bureaucratic waits for inspections and permits.
Then there is the New York consumer mind-set. "Many states, like Vermont, Michigan or Oregon, are very loyal to their local brands," said Steve Hindy, co-founder and president of Brooklyn Brewery, which launched in 1988 and grew to become one of the best-known craft-brew brands nationally. "New Yorkers want the best of everything, and many do not care where it comes from."
But the recent rise in New York City's brewery scene reflects broader bullish trends, industry experts say. National craft-beer sales topped $18 billion in 2014, said Mr. Watson, up 26% over 2013.
Demographics are expanding. More women and minorities are tippling craft brews, said industry consultant Jen Schwertman, and the millennial generation has come of drinking age in an era when beer options expanded significantly past a handful of dominant national brands.
In New York City, homegrown brews are also infiltrating upscale bars and restaurants. "We make sure a large percentage of our beer list comes from local breweries," said Hayley Jensen, beer sommelier at Taproom No. 307, a craft-beer bar with nearly 100 offerings. Artisan brews, with their unique, complex flavors, are increasingly being treated as pairing fodder for haute cuisine at such epicurean destinations as Eleven Madison Park, NoMad and others.
When Brooklyn Brewery opened in 1988, it sparked a revival of the city's proud brewing tradition, which began in the mid-19th century and dried up by 1976. But the two dozen area breweries that opened after Brooklyn Brewery's launch have failed, mainly because traditional beer distributors were reluctant to take on their product, Mr. Hindy said.
These days, he said, "you do not have to explain why your beer is dark or hoppy, or why it is strong and tastes like cherries or peaches or whiskey."
Chris Gallant, co-founder of Bronx Brewery, said he hopes to follow Brooklyn Brewery's example. But, he noted, "when Brooklyn started, there were just a few Goliaths like Bud and Heineken. Now, there are a lot more Goliaths, and they're one of them."
Back at Threes, Mr. Israelson described a culture of camaraderie between New York's newest brewers.
"There's a lot of sharing," he said. "When possible, we go over to Other Half and bring them a growler of what we're working on, and they have done the same for us many times."
All of which raises the question of whether a New York-style beer might be in the offing.
"It would certainly have to be bitter.not overly fruit forward," speculated Cory Bonifiglio, general manager of Proletariat, a Lower East Side beer bar, tossing out taste profiles like "confident and bold," "robust yet brisk" and "a little funky on the back end."
"I think we'll strive to find our own tastes," said Zach Mack, owner of Alphabet City Beer Co., a craft-beer bar and store. "Because if there's anything a New Yorker is good at it, it's forming an opinion on what is good and what is not."
Source: WSJ