Despite the shock to the economy that COVID-19 dealt last year, several companies went through with plans for mergers or acquisitions in 2020. Perhaps not surprisingly, the beginning of the year started off slow, but the number of deals picked up in the summer.
During the pandemic there was M&A movement in all categories in the alcohol industry. There were 48 deals between companies or brands with a significant presence in the U.S. The spirits category experienced the most mergers and acquisitions totaling 21, followed by wine at 18 and beer at 8, plus one non-alcoholic deal.
Most Active Companies
The companies that participated in the most M&A deals will come as no surprise to anyone in the industry with Constellation Brands, Pernod Ricard and Diageo rounding out the top three busiest companies.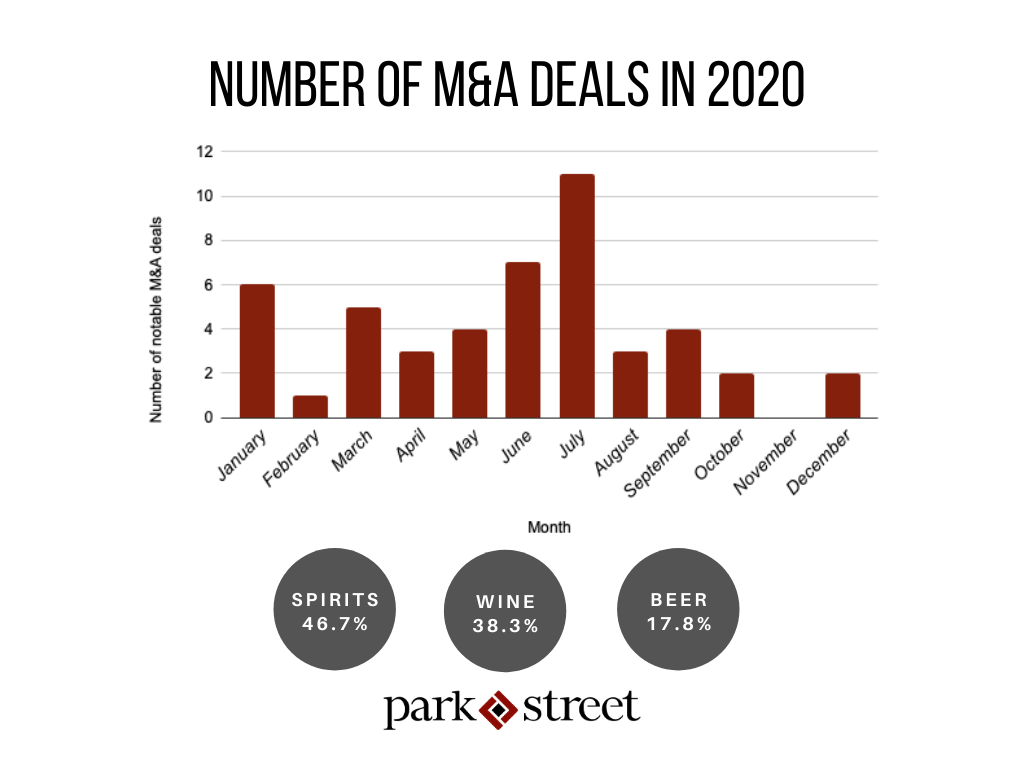 Below is a compilation of the most significant M&A deals that took place in 2020.
January
Two Rivers acquires majority stake in Bare Arms Brewing (Beer)
Molson Coors Acquires Atwater Brewing (Beer)
Diageo's Distill Ventures acquires majority stake in Ritual Zero Proof Distilling (non-alcoholic)
Halewood Wine & Spirits acquires 48% stake in Vestal Vodka (Spirits)
Suntory Holdings acquires 10% Edrington (Spirits)
WX Brands acquires True Myth, Tangent, Baileyana, and Zocker wine brands from the Niven Family (Wine)
February
Constellation Brands acquires stake in Press Premium Alcoholic Seltzer (Beer)
March
Kings & Convicts Brewing Co. acquires Ballast Point Craft Beer from Constellation Brands (Beer)
Pernod Ricard acquires equal stake in Italicus Aperitivo (Wine)
Pernod Ricard acquires remaining shares in Monkey 47 Gin (Spirits)
MGP Ingredients acquires Green Hat Gin (Spirits)
Integrated Beverage Group acquires Ransom wine co. & Distilling (Wine)
April
Pernod Ricard acquires Black Forest Distillers (Spirits)
Pernod Ricard acquires stake (significant investment) in Kyoto Distillery (Spirits)
Louis Roederer acquires Diamond Creek Vineyards (Wine)
May
Mark Hunter and David Wither acquire stake (significant investment) in Genius Brewing (Beer)
Intrepid Spirits acquires majority stake Regal Rogue (Spirits)
Jose Cuervo acquires more stake (20% to 49% stake) of Eire Born Spirits (Spirits)
Campari acquires 80% stake of Ficoma (Wine)
June
Newport Craft Brewing & Distilling acquires Radiant Pig (Beer)
PV Brewing Partners acquires Kona Beer in Hawaii from Anheuser Busch InBev for $16M (Beer)
Sazerac acquires Paul Masson Brandy from Constellation Brands for $225M (Spirits)
Sazerac acquires Early Times, Canadian Mist, and Collingwood Brands from Brown Forman (Spirits)
Remy Cointreau acquires Champagne de Telmont (Wine)
Foley Family Wines acquires Ferrari-Carano Vineyard & Winery (Wine)
Percept Wine acquires Pampelonne (Wine)
July
Quintessential Wines acquires US Brands from Accolade Brands (Wines)
Constellation Brands acquires minority stake in Booker Vineyards (Wines)
Constellation Brands acquires Empathy Wines (Wines)
Diageo acquires minority stake Rheinland Distillers (Spirits)
Diageo acquires Davos Brands for $610M (Spirits)
Shannon Ridge Family of Wines acquires Steele Wines (Wine)
Constellation Brands acquires Kerr Cellars Wine Portfolio (Wine)
EPI acquires stake Folio Fine Wine Partners (Wine)
Pernod Ricard acquires stake Oje de Tigre Mezcal (Spirits)
C. Mondavi & Family Wine Co. acquires French Blue Wine (Wine)
Trinchero Family Estates acquires Tres Agaves (Spirits)
August
Heineken acquires Tres Cruces (Beer)
Constellation Brands acquires remaining shares of Copper & Kings (Spirits)
Jackson Family Wines acquires Giant Steps Winery (Wine)
September
Diageo acquires Chase Distillery (Spirits)
William Grant & Sons acquires Milagro Tequila (Spirits)
Thornhill acquires B&A Wine Group (Wine)
Beam Suntory acquires remaining stock of On the Rocks (Spirits)
October
Bacardi acquires TAILS (Spirits)
Miller Family Wine acquires Butternut, Volunteer, Humble Pie, & The Rule from BNA Wine Group (Wine)
December
Möet Hennessy acquires minority stake Whistle Pig (Spirits)
Prestige Beverage Group acquires Windsor Canadian Whiskey from Beam Suntory (Spirits)