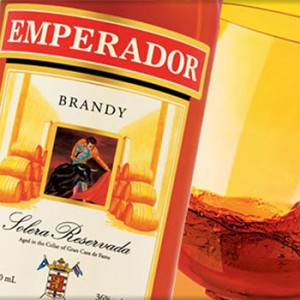 Philippines-based Emperador brandy became the second largest spirits brand in 2013, knocking Thai spirit Ruang Kao back to third place.
According to the IWSR's (International Wine and Spirits Research) Real 100, Emperador, owned by Alliance Global Group, is now the world's second largest spirits brand, but still produces half the volumes of the world's largest spirit brand Jinro Soju.
In 2013, Jinro sold more than 65.6 million nine-litre cases, while Emperador, which recently acquired Scotch producer Whyte & Mackay from United Spirits, sold 31.9m – up 6.5% – and Ruang Kao dropped 2% to 30.8m.
Eight of the world's 10 largest spirits brands are local "super giants" selling predominantly in their local markets, all of which are in the Asia Pacific region.
The brands which saw the most growth in 2013 were the Officer's Choice and McDowell's Indian whisky brands.
Officer's Choice – which is the world's best-selling whisky and was recently named The Spirits Business' Supreme Brand Champion – grew 29% to reach 24m cases.
McDowell's, previously the world's best-selling whisky, increased case sales by 20% to 23m.
The only international brands to feature in IWSR's Real 100 are Diageo's Smirnoff vodka and Johnnie Walker.
Johnnie Walker, the largest Scotch whisky, was also helped by healthy growth in India and South Africa. It moved two places up the ranking to number eight, closely followed by Celebration rum, which also jumped up two places.
The IWSR's Real 100 is a list of the 100 best-selling spirits in the world, and this year shows that 63 of the brands on the list derive 90% or more of their sales from their domestic market – confirming the continued prominence of local brands at the volume end of the spirits market.
Johnnie Walker is one of nine Diageo brands on the Real 100 list, equalling USL's nine brands which include Celebration rum and McDowell's. However, Diageo's acquisition of a controlling shareholding in USL in means the combined entity has 18 brands in the list.
Beam Suntory has five brands on the list after Suntory's recent $16bn acquisition of Beam Inc, while Pernod Ricard has 11 brands in the list with Indian whisky Royal Stag ranking highest.
After experiencing global sales declines, Bacardi dropped ofd the IWSR's top 10 list.
Source: The Spirits Business
http://www.thespiritsbusiness.com/2014/06/emperador-brandy-now-worlds-2nd-largest-spirit/