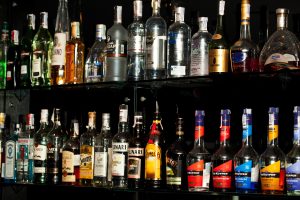 Until 1949 alcohol was not allowed on U.S. airlines. That policy changed in 1950, but the rules regarding sale and consumption might be more complicated than you thought.
Conflicting state liquor laws meant that drinks could only be served while flying over certain states. For instance, while flying over Pennsylvania (a no-sale state at the time) passengers weren't allowed to be served alcohol. Flight and bar attendants were actually given charts of state liquor sales restrictions to follow. The charts would list the states along the flight route, prohibited days and restrictions to persons who could be served, and even prohibited hours of service. The attendants had to judge based on landmarks while looking out a window, their watch or advice from pilots.
Alcohol was not allowed to be served on Sundays, election days and certain other holidays. Perhaps the strangest restriction came while flying over South Dakota, where the restrictions included refusing drinks to "spendthrifts".
Source: Air & Space, January 2017