Florida Alcoholic Beverage Market: Regulations, Statistics, Trends, and Wholesalers
Florida is a highly desirable market for the beverage alcohol industry and is frequently one of the first markets new brands look to enter in the U.S. Below we have put together a complete overview of how to do business in Florida relevant to suppliers, wholesalers, and even consumers.
In this guide, we cover consumption trends for spirits, wine, and beer in Florida, the most important laws and regulations to know, the best-selling brands, retailers, and the top distributors in Florida.
If you're looking to expand or begin distributing in the state, please fill out one of the forms on the page and learn how Park Street can help you grow your alcoholic beverage brand.
Consumption Trends In Florida
Florida is one of the largest beverage alcohol markets in the United States. In 2021, there were 175 million cases of beer sold, followed by 28.5 million cases of wine, and 20.1 million cases of spirits. The state ranks in the top three best markets for both wine and spirits. Below you will find some charts displaying the volume growth for beer, wine, and spirits over a five-year period.
Florida Spirits Consumption from 2015-2020 by 9-Liter Cases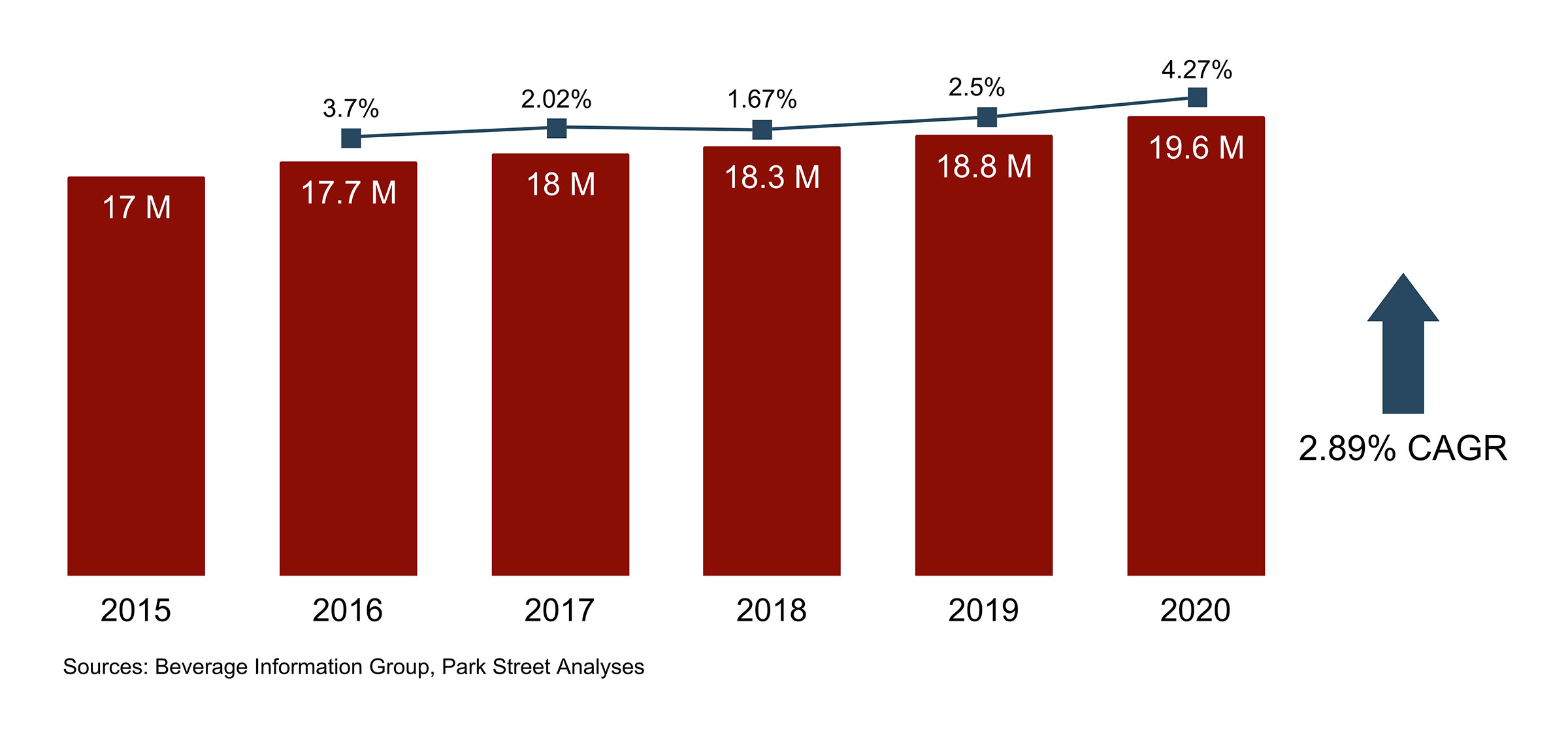 Florida Wine Consumption from 2015-2020 by 9-Liter Cases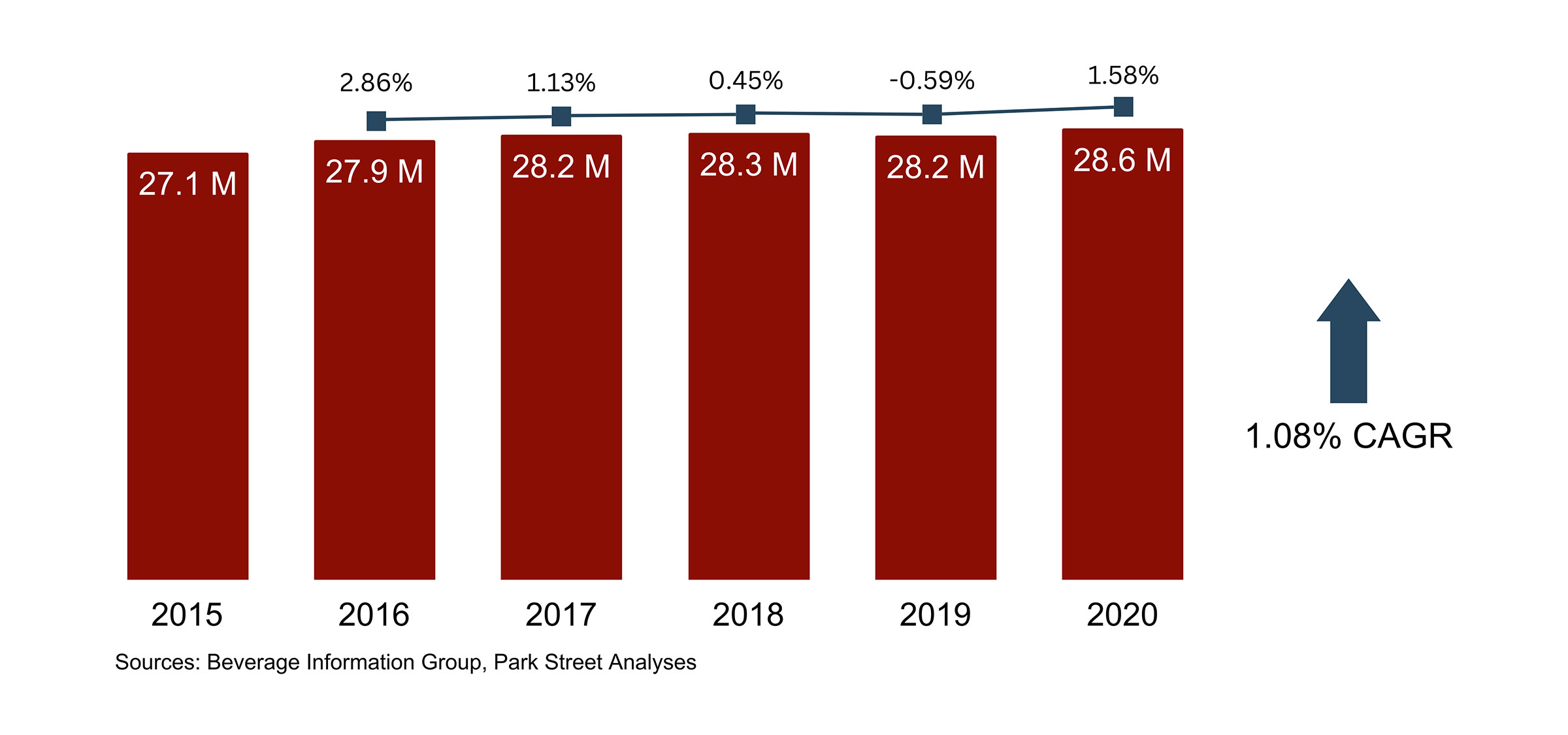 Florida Beer Consumption from 2015-2020 by 9-Liter Cases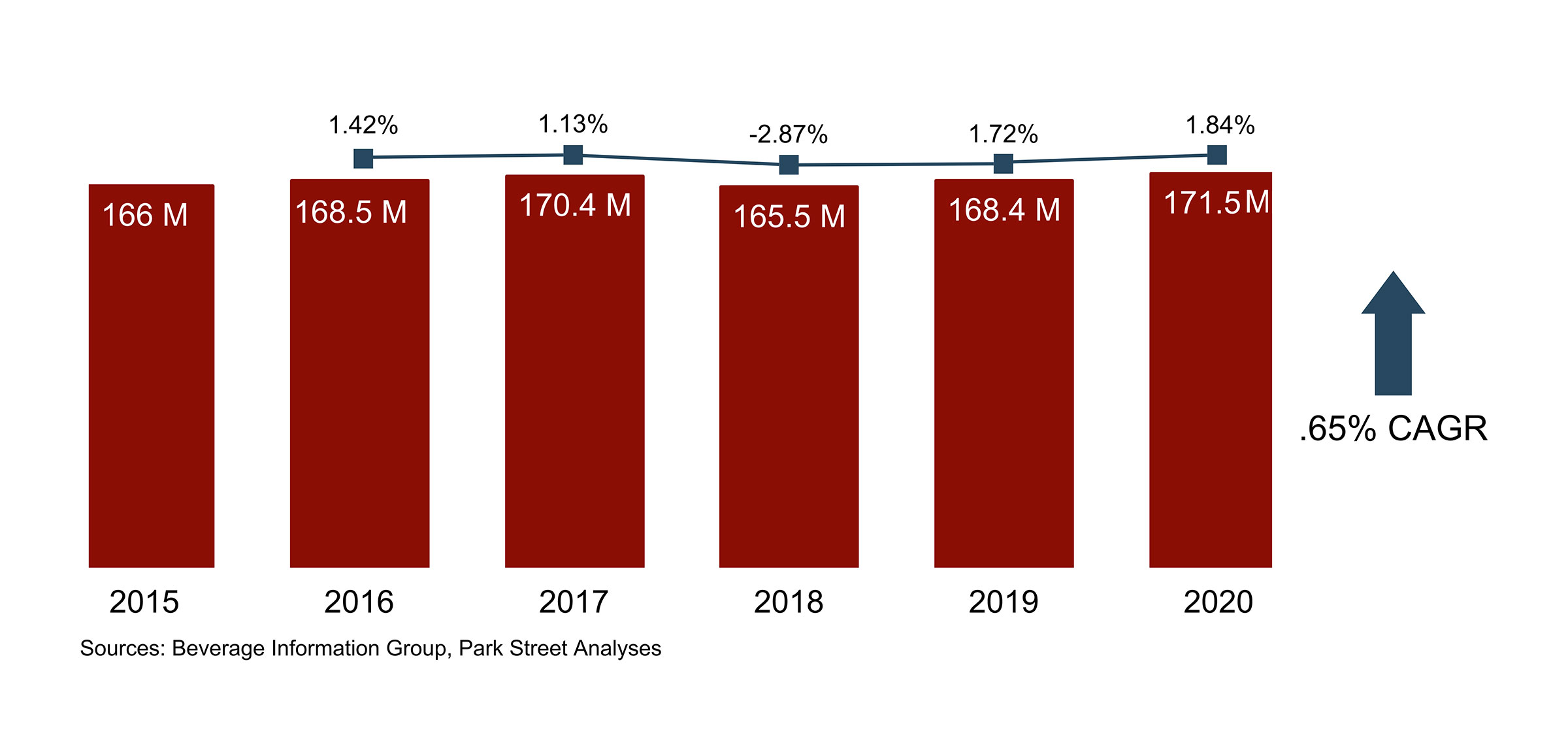 Florida Spirits Volume Sales By Category – 2020 Data
Spirit trends in Florida by volume and dollar sales in 2020.
Category
Volume Sales
Thousands, 9-liter
cases
Dollar Sales


Millions

Straight Whiskey
1.9 million
$572 million
Canadian Whisky
1.2 million
$519 million
Scotch whisky
993,000
$618 million
Irish whiskey
210,000
N/A
Gin
774,000
$310 million
Vodka
7.2 million
$2.9 billion
Rum
2,800
$1.2 billion
Tequila
1,200
N/A
Cordials/Liqueurs
1,500
$542 million
Cocktails
741
N/A
Florida Wine Volume Sales By Category – 2020 Data
See below for the wine trends in Florida by volume sales in 2020.
Category
Volume Sales


Thousands, 9-liter cases

Table
26,500
Wine Coolers
6
Champagne & Sparkling
1,900
Dessert & Fortified
154
Vermouth & Aperitif
114
Florida Beer Volume Sales By Category – 2020 Data
See below for the beer trends in Florida by volume sales in 2020.
Category
Volume Sales


Thousands, 2.25 Gallon Cases

Volume Sales barrels
Craft
15.8
508.5
FMBs & Hard Seltzer
23.9
771.7
Super & Super Premium
15.8
509.1
Light
64.7
2,087.7
Popular
6
193.0
Imported
41.6
1,342.6
The Top 10 Spirits Brands In Florida
Tito's Handmade Vodka
Smirnoff
Crown Royal
Bacardi
Fireball
Jim Beam Family
New Amsterdam Vodka
Captain Morgan (excludes Parrot Bay)
Jack Daniel's
Jose Cuervo
The Top 10 Table Wine Brands In Florida
Franzia Winetaps
Barefoot Cellars
Bota Box
Carlo Rossi
Sutter Home
Woodbridge by Robert Mondavi
Twin Valley
Black Box
Peter Vella
Livingston Cellars
The Top 10 Domestic Beer Brands In Florida
Bud Light
Coors Light
Michelob Ultra
White Claw Hard Seltzer
Miller Lite
Budweiser
Busch Light
Natural Light
Truly Spiked & Sparkling
Busch
Alcoholic Beverage Distributors Located In Florida
All alcohol sold in the U.S. must go through the three-tier system, meaning suppliers and manufacturers sell their product to the "middle tier" of the industry composed of wholesalers or importers, who then use internal teams to market and sell the product to retail establishments such as bars, restaurants, liquor stores, etc.
Below you will find an updated list of the top distributors located in the state of Florida. If you're looking for more information related to each of the individual distributors, feel free to visit the distributor listings. If you can't find the answer that you're looking for, please reach out to our customer support team for assistance or fill out the contact form provided.
Wine & Spirits Distributors
More Distributors in Florida (A-Z)
3R Distribution
ACE Wine & Spirits
Alfa International
Anchor Wines
Antares Inc/Wine Clearing
Apollo Export Warehouse
Bayshore Produce
Beerstream Distributors
Belle Epoque Wine Imports
Bernie Little Distributors
BluRack LLC
BMC Fine Spirits Florida
Brickell Liquor LLC
Burkhardt Distributing Co
Carisam International
Carisam Samuel Meisel (Miami)
Cavalier Distributing Florida
Cheers Distributors
City Beverages
Consortium Wine & Spirits
D & S Beverages
Daytona Beverage
Delarosa Vineyards
Dibacco Imports
Double Eagle Distribution
Duty Free Retail Group
Eagle Brands
Eastern Wine
Florida Craft Distributors LLC
Florida Distributing
Global Beverage Group LLC
Global Wines LLC (Sunrise)
Gold Coast Beverage LLC
Gold Coast Eagle Distributing
Golden Wines LLC
Gourmet Food & Wine International
Grantham Distributing Co.
Graziano Imports.
Great Bay Distributors
Greg Ford
Greystone Partners
Hilton – Food & Beverage
House of Wine and Spirits
Ice Pop Factory
InnoTri Limited LLC
International Cruise Duty Free
International Wine and Spirits Inc
Johnson Brothers
Liberation Distribution
Mango Bottling, Inc.
Manifest Distilling
Mexcor
Mixitalia St. Maarten
Monarq B.V.
Next Point
North Florida Sales
Opici Wine (Ocala)
Paradise Distributors
Pepia Est
Pepin Distributing Co.
Phil & Sons Distributing
Premier Beverage Co.
Prestige Worldwide Distributors
Private Cask Imports
Progress Wine Group
Progress Wine Group
Provicenter USA
Seabox International Inc
Shaw-Ross Intl Importers, LLC
Sommselection LLC
South African Beer
Southern Eagle Distributing
Southern Glazer's
Sovereign Distributors
Stansfeld Scott
Stephens Distributing Co Inc.
Suncoast Beverage Sales
Sunshine State Distributing
Superb Wines International
Terroir Selections
The Lewis Bear Company
The Wine Seller Of Florida
Tier II
Titans of PR Corp
TOMA Distribution Company
Top Wines Import
Trade Link West Indies LLC (Miami)
Tri Eagle Sales
Triple P Distributing
Twenty-One Wine & Spirits
Unfiltered Unfined Wines
Vineyard Selections
Vintage Distributors
Wayne Densch
Wine Art
Winebow (Pompano)
Young's Fine Wine
Self-Pitch Distribution Model
Finding the right distributor is often cited as one of the most difficult challenges to building a brand in the U.S.
There are thousands of brands and industry consolidation has led to fewer distribution companies to choose from in each
market.
As such, one option available to emerging brands is to use Park Street's self-pitch distribution model.
The self-pitch distribution model is similar to the three-tier traditional distribution model where product is delivered
to retailers, but the key difference is that sales and marketing is handled by the supplier.
Selling Alcohol In Florida
The alcohol industry in Florida is overseen by the Division of Alcoholic Beverages and Tobacco. The agency is
responsible for licensing, tax collection and auditing, fee collection, and enforcing the state's laws and regulations. Selling alcohol in Florida, or any state you may be looking to do business in, requires knowledge of the state, county, and local alcohol laws to remain compliant. We've put together some of the most common questions covering the off and on-premise environments in the state. Should you have any other selling-related questions, please feel free to reach out to us.
FAQs on Florida Beer, Wine & Spirits Sales
What are the policies regarding the sale of alcohol on Sundays in Florida?
Florida does allow Sunday sales of alcohol, subject to local government discretion.
What are the hours retailers can sell alcohol?
The default hours for selling alcohol in the state of Florida are between 7:00 AM and 12:00 AM daily. These hours apply unless counties or incorporated municipalities opt to create their own laws, which supersede.
Do Walmart, Target, and CVS sell alcohol in FL?
Yes, retailers such as Walmart, Target, and CVS sell alcohol, specifically beer and wine. They do not sell spirits.
Do they sell liquor, wine, or beer in grocery stores in Florida?
Yes, grocery stores in Florida sell beer and wine. Those with liquor stores such as Publix, Milams, and Winn Dixie sell spirits at separate locations in close proximity to the store.
Do they sell liquor, wine, or beer in gas stations in Florida?
Yes, they sell wine and beer at gas stations in Florida, but predominantly beer.
Buying Alcohol In Florida – Hours, Locations & Taxes
Florida, although some dry counties do exist, is not a dry state, which means you can buy alcohol within the state. If you're looking to learn the rules, regulations, and laws on buying beer, wine, and spirits within the state, then see below. Learn more about buying both off-premise and on-premise today.
FAQs on Buying Beer, Wine & Liquor in Florida
What is the alcohol tax in Florida?
Wine
Less than 17.259% abv – $2.25 per Gallon
17.259% abv or more – $3.00 per Gallon
Natural Sparkling – $3.50 per Gallon
Cider- $0.89/Gallon
Liquor
Less than 17.259% abv – $2.25 per Gallon
17.259% – 55.78% abv – $6.50 per Gallon
More than 55.78% abv – $9.53 per Gallon
Can you buy liquor in grocery stores in FL?
Yes. You can buy wine, beer, and liquor under 6% ABV in grocery stores. Liquor over 6% ABV is sold only through package stores.
Can you buy alcohol in gas stations in Florida?
Yes, you can buy wine and beer in gas stations providing that they offer it for purchase to customers. Unless local law does not permit the sale of alcoholic beverages.
Can you buy alcohol on Sunday in FL?
Yes, but this will vary by county and alcohol type. Please consult your local and county regulations for complete details. Except as otherwise provided by county/municipal ordinance, sales are prohibited between midnight and 7 am every day including Sunday: (Source). In unincorporated Miami-Dade County, package stores are prohibited from making sales on Sundays (Source). Within the City of Miami, package stores may sell between 9 am and 7 pm and retailers may serve from noon until 3 am (Source). In Broward County, on and off-premise retailers are prohibited from making sales before noon (Source).
Does Florida Allow direct-to-consumer shipping?
Wine can be shipped directly to consumers, but direct shipping to consumers is not allowed in Florida.
What times can you buy liquor, wine, or beer in Florida?
The sale of alcohol is not permitted between midnight and 7:00 AM which means you can buy alcohol any time that is not within that restricted period.
Can you order alcohol to go in FL?
Alcohol-to-go or curbside sales are permitted for wine, spirits, and malt beverages in Florida provided the
establishment meets the state's criteria for to-go sales.
Where in Florida can buy alcohol off-premise?
It depends on the type of alcohol you're trying to purchase. Providing they hold an alcohol retailer's license, you can purchase beer and wine in convenience stores, gas stations, and grocery stores. You can purchase liquor at package stores.
Where can buy alcohol for on-premise consumption in FL?
You can buy alcohol on-premise at any location that has a license to serve alcohol on-premise. That means bars, restaurants, clubs, hotels, and other locations so long as they meet the requirements for selling and serving on-premise.
Here at Park Street we connect wholesalers with distributors and provide many types of services that allow you to focus on building your brand while we handle the rest! If you're interested in learning more about our services, please feel free to complete the form below and a member of our client development team will be in touch within 24 hours.
Looking For An Importer, Distributor or Back-Office Solution?
Find out why Park Street is a leading distributor and solution in the wine & spirits industry. Contact us to find out exactly what we can do for your brand.