At the end of 2021, a longstanding tariff dispute between the U.S. and Europe came to an end, opening the door to new markets for American whiskey producers to sell overseas. As a result, American whiskeys accounted for 62% of all U.S. spirits exports in value and 23% in volume last year, according to the Distilled Spirits Council of the United States. Whiskey was also a key driver of spirits growth in the U.S. on-premise after jumping 15.5% year over year.
As whiskey continues to hit new benchmarks, we have compiled a comprehensive overview of the category for those interested in building a whiskey brand in the U.S.
How Big Is the Straight Whiskey Market?
Straight whiskey in the U.S. is currently led by mainstay brands such as Jim Beam, Jack Daniels, and Evan Williams, but the category is being pushed forward even further by high-growth brands like Ole Smoky, Elijah Craig, and Angel's Envy. Each of these brands saw their 9-liter case volumes grow by at least 22% from 2019 to 2021. In 2021 consumers spent nearly $11 billion on straight whiskey at retail. The states that were responsible for selling the most 9L cases of straight whiskey included:

California – 3.6 million cases

Texas – 2.1 million cases

Florida – 2 million cases

New York – 996k cases

Kentucky – 174k cases
The states and territories responsible for selling the most straight whiskey cases per capita included:
Kentucky – 971k cases (294 per 1,000 adults)

New Hampshire – 260k cases (243 per 1,000 adults)

Wyoming – 78k cases (185 per 1,000 adults)

Washington D.C. – 96k cases (183 per 1,000 adults)

Missouri – 792k cases (174 per 1,000 adults)
How Big Is the Blended Whiskey Market in the United States?
In 2021, the blended whiskey segment was led by brands including Seagram's 7 Crown, Kessler, and Kentucky Deluxe. While blended whiskies showed limited growth from 2019 to 2021 compared to straight whiskey, the brands with the most significant growth in the segment were Old Thompson and Calvert Extra. In 2021 Millennials and Gen-Z were the most avid drinkers of blended whisky with people aged 25 to 34 commanding a 24% share of total consumption. The states that were responsible for selling the most 9L cases of straight whiskey included:

California – 647k cases

Texas – 481k cases

Wisconsin – 447k cases

Florida – 290k cases

New York – 229k cases
The states and territories responsible for selling the most blended whiskey cases per capita included:
Wisconsin – 447k cases (102 per 1,000 adults)

Oklahoma – 138k cases (48 per 1,000 adults)

Louisiana – 121k cases (36 per 1,000 adults)

Missouri – 158k cases (35 per 1,000 adults)

Kentucky – 106k cases (32 per 1,000 adults)
Subscribe to the Park Street Daily Newsletter to Learn More About Category Trends!
Trends Driving Whiskey's Popularity
American Single Malt
At a time when the brown spirits market is flooded with options and consumer interest is at an all-time high, American single malts are serving as a model of success for new whiskey segments.
Craft spirits producers in particular have led the development of the category as a means of market differentiation from bourbons or ryes. These whiskies are unique to the U.S. in terms of their use of local terroir and American barley. The result is a product that is highly differentiated from Scotch whiskies.
In the U.S., consumer knowledge and acceptance surrounding this style are steadily growing. Meanwhile, the American Single Malt Whiskey Commission has expanded in recent years to reach 130 members.
What is American Single Malt Whiskey?
After years of lobbying by craft distillers for American single malts to receive recognition as a distinct category, the Alcohol and Tobacco Tax and Trade Bureau recently decided to formalize a definition for the category. Under the proposed definition, American single malts will need to meet the following requirements:

Distilled entirely at one United States distillery

Must be mashed, distilled, and matured in the United States

Distilled to a proof not exceeding 160 proof from a fermented mash of 100% malted barley

Stored in oak containers not exceeding 700 liters

Bottled at no less than 80 proofs at 40% ABV
The official definition for American single malts is a major milestone for the category and will give craft brands a platform to differentiate and compete in global markets moving forwards.
Flavored Whiskey Market
Flavored subcategories are performing well across all spirits categories. A 2021 report from IWSR found that flavored subcategories are primary consumer drivers and flavored whiskey is no exception.
While flavored whiskey is not a new phenomenon, its momentum has snowballed since 2010 with major producers like Jack Daniels and Crown Royal launching flavored SKUs to great success. Even today, longstanding SKUs like Crown Royal Regal Apple Flavored Whisky, Jack Daniel's Tennessee Fire Flavored Whiskey, and Fireball Cinnamon Whisky are among the top sellers on the e-commerce platform Drizly.
Craft distillers are also using flavor experimentation as a point of differentiation. Flavors like cinnamon, apple, and honey have been traditionally popular in this segment, but new varieties are popping up to supplement high consumer interest.
Flavored whiskey's potential has been reflected in M&A activity over the last year as well. In 2022, the Campari Group struck a deal to bring Howler Head Banana Bourbon Whiskey into its portfolio. More recently, the first quarter of 2023 saw Pernod Ricard acquire cult favorite Skrewball Peanut Butter Whiskey.
Major strategics are continually investing along the lines of the flavored whiskey category after seeing brands in this segment generate a high degree of consumer interest.
Premiumization
The premiumization trend was particularly evident in 2022. Super-premium spirits saw their share of the total price tier bracket rise to 24% in May of 2022, up 1.4% percentage points when compared to two years prior, according to CGA by Nielsen IQ. Whiskey was a key driver of this growth, as it led all spirits categories in terms of dollar share for this period, claiming a 27% share of total dollar value.
Total whiskey volumes were up 3% in 2022 compared to the previous year, surpassing vodka for the first time in almost two decades. Bourbon saw a value increase of 8% in 2022 on the back of a strong year for U.S. whiskey.
More Whiskey-Related Content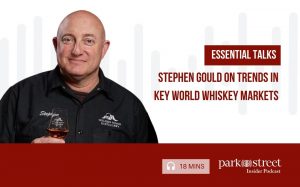 A Case Study on Misunderstood Whiskey
Top States for American Whiskey Sales
Our Interview with Jeff Kozak, CEO of WhistlePig Whiskey
A Free Guide to Getting Started in the US Market