Emerging beverage alcohol brands often struggle with crafting a scalable route-to-market strategy in major markets such as California and New York due to how expensive and crowded they are. Visibility and awareness at both the retail and consumer level is significantly harder to come by in these markets because they rank as a top priority on nearly every brand's list.
Alcohol Brand Direct-to-Retail Distribution Advice
If you are looking to enter these markets for the first time or shake up your existing strategy, there are a couple of different options to consider for the route to market.
The Reality in Major U.S. Markets in 2023
The alcohol category is experiencing an influx of new brands, which inevitably leads to an increase in competition.The craft sector is leading the segment in new entrants with the number of active craft distilleries in the U.S. up from 250 in 2008 to more than 2,500 in 2022, according to the Craft Spirits Data Project.
Meanwhile, the distribution tier has been consolidating at a strong pace in recent years. As of 2022, the ten largest wholesalers nationwide were projected to account for a combined market share of 78.5%, according to Impact Databank. These distributors each have hundreds of brands and often dedicate the bulk of their resources to larger brands that are being consistently ordered by retailers and have deeper pockets for sales incentive programs. This can leave smaller brands with fewer opportunities to get their product in front of retailers and consumers if they solely rely on a distributor to sell through the brand.
If you choose to go the traditional distribution route in major markets, see Park Street's Roundup of Distribution Best Practices
Direct-to-Retail: An Alternative to Traditional Distribution Agreement
Park Street's direct-to-retail solution, sometimes referred to as self-pitch distribution, provides an alternative to traditional distributors and a different path to success in major markets.
Park Street's solution is similar to a traditional distribution agreement, wherein Park Street delivers orders from its warehouses and invoices retailers for the sale, but there is no sales and marketing arrangement as with traditional distribution models.
The best way to establish a successful distribution program is for your brand to have its own sales force and/or marketing team to create demand for the product(s) and build direct relationships within that market.
Best Markets for Direct-to-Retail Distribution
It is most cost-effective to practice self-pitch distribution in major metropolitan areas as opposed to smaller rural areas. Carrier services can make bulk deliveries for several brands and retailers at the same time in major metropolitan areas, but may have to drive out of the way for longer distances to deliver to retailers in more rural markets. As a result, Park Street allows suppliers to leverage its distribution solution in California, Florida, New York, and New Jersey.
Sales Models to Support Direct-to-Retail Distribution
In the direct-to-retail distribution model, brands will need in-market sales support. Below are two common scenarios for sales support:
In some cases, brands have an internal sales team that lives in the market or regularly visits the market. While it is doable, it is not the most economically efficient model for smaller brands as it can be costly to send salespeople out to retailers in order to pitch one specific brand.
Another model is a shared sales infrastructure, in which an outside sales team represents multiple brands each time they meet or speak with retailers, making the process more efficient and cost-effective.
Best Retail Partners for Direct-to-Retail Distribution
Large retail chains can be difficult to establish a relationship with via distribution, as they have close relationships with major distributors and prefer to call them up when ordering new products. Therefore, it is much more effective to aim for smaller independent retailers and begin to establish your footprint there. This allows your brand to create a proof-of-value that can attract large distributors to your product.
In addition, the Park Street platform allows salespeople to efficiently place orders and invoice retailers. Park Street's Marketplace platform also allows retailers to reorder products they like without having to wait for the sales team to return.
More Content You Might Like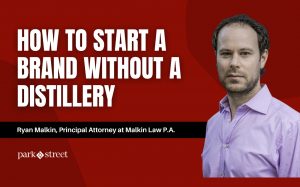 A Roadmap for Creating a Market Expansion Plan
Guide To Importing Alcohol Into the United States
Direct-To-Consumer Opportunities for Spirits