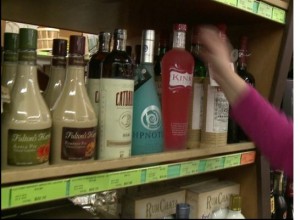 As people prepare to toast the holidays, many are buying their alcohol across state lines.
Two years after liquor was privatized in Washington, a new report found that liquor prices in Washington are the highest in the nation.
KREM's 2 On Your Side looked into how the higher prices are impacting Spokane's mom and pop liquor stores.
"I think it's the dumbest thing we ever did in our state," said Sharon Foster the outgoing head of Washington's Liquor Control Board.
It was blunt talk from a woman in the know. This week, the outgoing head of Washington's Liquor Control Board spoke candidly about liquor privatization.
The assessment was undoubtedly harsh, but Spokane liquor store owners like Diane Egger share the same thought.
"It's very hard to be a small business that collects taxes on things that are enjoyments of life," Egger explained.
Egger's store is stocked with plenty of liquid. The only problem is that her customer base has dried up. Egger said it has been that way since two years ago, when Washington privatized booze and the price of liquor soared.
In Washington, a gallon of alcohol costs about $35. Compare that to two years ago when it cost $27 before it was privatized. Washington's liquor prices are currently the highest in the country and cost $25 more than what it would cost just a few miles away in Idaho.
"They're saying, 'thank you for bringing us the sales, Washington, bring it on," Egger said.
As customers flock to Idaho, Egger said at least six of her fellow mom and pop liquor stores have shut down in the Spokane area alone.
"Not only did their small business fail, but their dreams and hopes got kiboshed," Egger explained.
Fewer customers walking the aisles is one thing, but the hurt for liquor stores does not end there, according to store owners. Egger said she is now having to pay between $30,000 and $40,000 in additional fees and taxes each quarter.
For now, Egger is relying on loyal customers like Jim Burke to keep her afloat.
"By the time you drive to Idaho and back, I don't think there's that big of savings," Burke said.
"Those are the reasons we're still in business here," Egger said. "It is because of my loyal customers and my crew."
Egger said her sales are strong enough to keep her around, but with the state's liquor tax being the highest in the nation, the new year will likely offer more sobering times.
Source: KREM