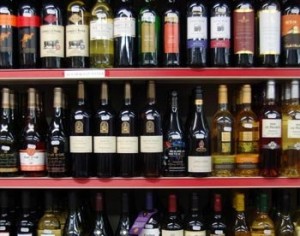 A Government pledge to remove one billion units of alcohol from the UK market by 2015 as part of its "responsibility deal" is on course, according to the project's first interim report.
Alcohol-health-warning-la-007Dozens of suppliers, retailers and producers have signed up to the Responsibility Deal Alcohol Network project, which seeks to remove 1 billion units of alcohol from the UK market by 2015, agreeing to support a reduction in the abv of drinks sold.
The project's first interim report was published today by the Department for Health which confirmed that 25% of the target set had already been achieved.
In total the number of alcohol units sold in 2011 to 2012 fell by 1.3 billion, due to a decline in volume sales, while 253 million units of alcohol were removed by the trade from the UK market through reducing the abv content in drinks sold – quarter of the way to its 1 billion target.
Despite this reduction, the average abv across the market as a whole saw a slight increase by 0.05% to 7.13% due to a market share shift away from lower strength beer and cider to wine and spirits.
The report said: "The volume of spirits increased by 0.3% and the volume of wine fell by 0.6%. In contrast, the volume of beer and cider fell by 3.7% and 5.9% respectively.
"When shifts between different categories of drink are controlled for, the average ABV decreased by 0.04 percentage points from 7.26% in 2011 to 7.22% in 2012. This generated the reduction of 253 million units of alcohol."
It added: "The total volume of product decreased by 3% between 2011 and 2012 from 71.8 to 69.6 million hl. The average ABV across the market as a whole increased by 0.05% from 7.26% to 7.31%.
"As a result, the total volume of pure alcohol decreased by 2% from 5.2 to 5.1 million hl. This equates to a reduction in units of alcohol of 1.3 billion, from 52.1 billion to 50.9 billion."
Individuals who have signed up to the pledge include, among others, Heineken, Molson Coors, the British Beer and Pub Association, ABInBev UK, Diageo, Marks and Spencer and Bacardi.
A spokesperson for Diageo said in the report: "We have reduced the strength of our Blossom Hill white wine, 'Californian White' by 0.5% (currently the UK's biggest selling white wine) from 12% to 11.5% ABV.
"This change to 11.5% ABV is planned to be a permanent change. Our innovation pipeline continues to develop and launch lower alcohol wine and wine based drinks to increase choice for our consumers. Last year we launched Blossom Hill Vie, which is a 5.5% ABV wine based drink. The livery and occasions of consumption are similar to wine, but offer consumers a great tasting alternative to full strength wine.
"These wine drinks have less than half of the alcoholic strengths of most standard wine offerings. We are also currently exploring further opportunities in the lower strength wine arena. Following a successful trial in Tesco of Guinness Mid Strength (2.8% vol) in cans, we are now supplying this product to Asda and Morrisons as well as Tesco and sales continue to rise."
The Department of Health is expected to produce an annual interim report on the project's progress, with a final report expected in 2016.
Source: The Drinks Business
http://www.thedrinksbusiness.com/2014/04/uk-on-track-to-cut-1-billion-units-by-2015/