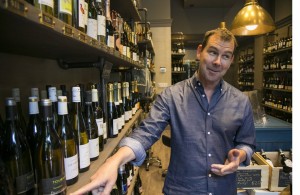 I've often wondered why certain bottles end up in the front of a wine shop. Is it because they're exceptionally good deals or because they're ones that the store owner wants to close out? Are they perennial best-sellers, neighborhood favorites or simply seasonal selections?
The answer: All of the above.
I polled a half-dozen or so retailers in greater New York and visited about the same number of stores. What I found was that the front-of-store offerings were almost always less expensive than wines in other parts of the store-and usually included a great deal of rosé.
Amsterdam Wine Co. on the Upper West Side features wines that cost less than $15 a bottle on the left side of the front door and kosher wines and rosés on the right.
"I want to draw people in," Steve Flynn, the proprietor, explained about the selection. And he shows off the reasonably priced wines so that he doesn't scare off any prospective customers who he thinks might read his store as "expensive" because of his store's small size and sleek design.
Mr. Flynn is particularly keen on the 2013 François Chidaine Touraine Sauvignon Blanc from the Loire, which he described as "not your typical Sauvignon Blanc." (I bought a bottle; it was quite good.)
And the kosher wines? "They were for the neighborhood," he said. And the roses? Well, they are his nod to summer, of course.
Rosés are front and center in other stores across town, including Sherry-Lehmann Wine & Spirits in Midtown East and Astor Wines & Spirits downtown. I found rosés not far from the front doors of 67 Wine and Beacon Wines & Spirits, too, along with organic wines and wines from New York state as well as a seemingly random bunch of bottles billed as "manager's picks"-a popular category of front-of-store wines.
Every one of the 14 stores in the Bottle chain in New Jersey has a manager's pick and a wine of the month, according to Steve Carpentier, Bottle King general manager. The wine of the month generally ranges from $9 to $15, he said.
When I stopped by the Wayne outpost, I found the manager's selection in addition to many other titled wines.
There were Best Buy wines, Special Sale Price wines and Staff Picks as well as of #1 Selling Wines and Double 90 Pointer! Wines, Hidden Gems and Wines of the Month. It was hard to find a front-of-store wine that didn't have a title of some sort.
A short distance down the road at Gary's Wine & Marketplace, the front-of-store offerings were assembled under far fewer signs-and no exclamation marks. There was, instead, a special display of Top Ten selections that included wines from around the world-California, Argentina, France, for example-at prices that ranged from $11 to $30 a bottle. The wines were a combination of ones that were selling particularly well and ones that the shop wanted customers to try, said Anthony Bencivenga, the general manager.
But in both cases, "they have to be available in large amounts," he added.
The greatest challenge, however, wasn't the selection but the display case itself, said Mr. Bencivenga.
At first, the store employees put the wines into cardboard boxes on the floor but that "looked like a discount warehouse," so they moved the selection around a few times until they finally built the existing case and placed it just around the corner from the front door.
"Now people shop there more than anywhere else in the store," Mr. Bencivegna declared.
At PJ Wine, the look is definitely discount warehouse-with front-of-store bottles of sweet and semisweet reds and mass-market brands like Beringer White Zinfandel.
The wines reflect neighborhood tastes, said managing director Evan McCormack, who features a section of about two dozen rosés and an eclectic group of wines under the heading #Trending in the front as well.
The #Trending wines included selections like Chateau Simon Palette Rouge ($50) and Selbach Incline Riesling from Germany ($12). Were they really trending? It seemed hard to believe an obscure expensive red from Provence and a German Riesling shared the same audience as the nearby semisweet.
Mr. McCormack later explained the selections were chosen for a variety of reasons, including what's trending in the wine industry today "and a bit of wishful thinking."
From cheap to seasonal to neighborhood favorites to the occasional obscure and pricey bottles, the front-of-store wines were sometimes interesting and often quite different wines-save for the rosés, of course).
But the one experience had been consistent throughout: When I shopped up front, I was hardly ever asked if I needed help.
Why was that? I wondered. Was a shopper surrounded by cheap wines or rosés or Manager's Picks assumed not to need-or perhaps even warrant-some show of assistance? I put the question to Amsterdam's Mr. Flynn the next day, over the phone.
"I don't really know," he replied. He and his staff make a point of greeting every person who walks into the store.
"Maybe if they are big stores with boxes of Bogle or shelf talkers with points they assume that sales help isn't needed," he speculated.
Maybe that's what all those signs are for-particularly the one with exclamation marks!
Source: WSJ