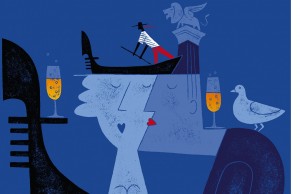 IF THERE IS one night of the year when you probably don't want to book a table at your favorite restaurant it's Feb. 14, St. Valentine's Day. I don't know about you but the thought of romantically themed menus, amorous couples and obsequious maître d's makes me shudder. I can remember the last time I went out for Valentine's Day and it was a long time ago, more than 15 years. The sommelier made such a fiasco of opening our wine, I vowed never to do it again.
The restaurant in question allowed you to bring your own bottle for a sensible corkage fee, and I had bought a particularly old bottle of French wine for the occasion. The sommelier managed to snap the cork, leaving half of it in the neck of the bottle, with really no idea how to retrieve it. It wasn't until our main course arrived that we finally managed to extract it, but by then it was too late as the wine needed decanting.
I learned a valuable lesson: If you're going to BYOB, always uncork your bottle before arriving. No, far better, enjoy Valentine's Day at home, away from the crowds, where you can create your very own bespoke evening.
But, leaving my prejudices aside, wine does lend itself to Valentine's Day. As the English philosopher Roger Scruton observes, Bacchus and Eros are close companions, and while wine helps us meditate on charity and the difficult questions of life, it also stimulates desire. So where to start?
Well, if there's one wine that I think is an absolute prerequisite for Feb. 14, it's a half-bottle of Billecart-Salmon Brut Rosé. With its gorgeous, salmon-pink color and bright, fresh, red currant aroma, it instantly lifts the mood. For two, a half bottle is the perfect size for fizz, as it allows for a generous glass-and-a-half each.
If Champagne is a little bit beyond your budget, you could always try Prosecco, which, being made in the rolling hillsides just a 45-minute drive north of Venice, perhaps the most romantic city of all, has the perfect love-themed lineage. Alternatively, Napa Valley's O'Brien Estate may tempt you with its range of seductively named wines, from "Devotion" and "Fascination" to "Romance of the Heart."
But it's in France, particularly the classic regions, that romance is really found. Take St.-Amour, one of the 10 Beaujolais villages permitted to put its name on the label. Made from the Gamay grape, this is a light, fruity red that would pair well with fish or red meat. Then there's the vineyard of Les Amoureuses (the Lovers) in the Burgundian village of Chambolle-Musigny-although being a premier cru, this wine isn't easy on the wallet.
For something a little more subtle, opt for a bottle of Château Calon-Ségur. This Cabernet Sauvignon-dominated blend is a potent wine from one of Bordeaux's oldest wine estates, near the village of St.-Estèphe. In the 18th century, Château Calon-Ségur's walled vineyards were owned by Nicolas-Alexandre, the Marquis de Ségur. The reason this wine wears a heart on its label is, they say, because although the marquis also owned Lafite and Latour, the Calon estate was his true love.
Source: WSJ