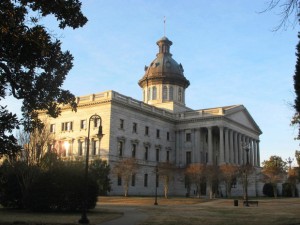 Banning powdered alcohol but allowing Election Day booze sales moved forward Thursday at the State House.
Powdered alcohol sales are not permitted in the United States yet. But an Arizona maker of Palcohol is seeking permission from federal regulators.
A bill to ban sales or possession of powdered alcohol was introduced last week in the S.C. Senate. However, even if it passes the Senate, it will need a two-thirds vote to be considered in the House since the proposal was introduced so late in the legislative session.
South Carolina is the fourth state considering a ban on powdered alcohol. Critics say they are concerned powered alcohol would be easier to conceal and misuse. "It seems like we need to be ahead of the curve," said state Sen. Luke Rankin, a Horry County Republican who led the Senate panel that approved the ban Thursday.
Palcohol creator Mark Phillips has said critics' worries are unfounded. He also noted Palcohol could have commercial uses, such as an antiseptic or an emergency fuel.
Phillips offered to attend Thursday's Senate hearing but did not since the meeting only was tentatively scheduled because of the Senate's extended budget debate. He could come for the next hearing, Senate officials said.
The same Senate subcommittee moved a step closer Thursday to permitting alcohol sales on Election Day, approving a proposal to allow those sales but ban Christmas Day sales.
South Carolina is the only state in the nation still to ban Election Day sales. Stores lose $1.1 million in sales and the state loses $105,000 in taxes by not opening on Election Day, a national liquor industry group said.
A bill passed in the House formally would ban booze sales on Christmas Day, when liquor stores now voluntarily close. But representatives from the world's largest liquor maker, Diageo, and the Distilled Spirits Council of the United States oppose the Christmas Day ban, saying stores should have the option to open.
However, the Senate Judiciary Committee subcommittee voted to keep the Christmas Day closings as part of a compromise to win Election Day sales.
The powdered alcohol and Election Day bills will move to the full Senate Judiciary Committee next week before heading to the Senate floor.
Source: The State
http://www.thestate.com/2014/05/15/3449192/powdered-alcohol-ban-election.html?sp=/99/132/312/169/