W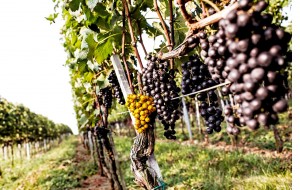 INE IMPORTER Eric Solomon lives in Charlotte, N.C. Perhaps it is more accurate to say that Mr. Solomon owns a house in Charlotte, since he spends over two-thirds of his time on the road, traveling by plane or train or car. The landscape varies-from large cities to small villages-as does the setting: restaurants, bars, hotel lobbies, vineyards and wine cellars. They're all places where Mr. Solomon, founder of European Cellars, has located some of the world's top winemaking talent, and where he still searches for more.
Driven by curiosity, passion and a competitive spirit, Mr. Solomon is among an elite cadre of Americans who have made it their life's work to locate and nurture producers from places near and far whose wines will not only win high scores from the critics but serve as a benchmark for a region and a reference point for oenophiles all over the world. And of course, in addition to the personal satisfaction of bringing a great wine to the market, there is good money to be made.
Although there are many American-based wine importers today, when Mr. Solomon founded his company, in 1990, the field was a good deal less crowded. But there were a few early pioneers who particularly inspired him, including Berkeley, Calif.-based Kermit Lynch, who first rose to fame in the '80s by discovering such great producers from France as Domaine Tempier and Domaine François Raveneau, and the late Filippo di Belardino, who in the 1970s introduced terrific Italian producers such as Livio Felluga and Mastroberardino to Americans with his company, Mediterranean Imports.
But not many importers were paying attention to the places that Mr. Solomon had begun to explore, such as Spain and the southern Rhône, nor were there many wines of note being made there. Today, of the 100 producers in Mr. Solomon's portfolio, a quarter are from the southern Rhône, and over half are from Spain. And despite increased competition, he estimates he's one of the top three or four importers of wines from the southern Rhône as well as one of the largest boutique importers of Spanish wines in the U.S.
This is why I chose to spend five hectic days traveling through Spain with Mr. Solomon and his portfolio manager for that country, Daniel Gonzalez, on one of their quarterly wine-scouting trips.
Sometimes Mr. Solomon goes scouting after receiving a tip from another producer, sometimes he has received a promising sample in the mail. But an in-person visit is always the first step in the transition of a producer from an interesting possibility to a full-fledged winemaking star-an evolution Mr. Solomon has brought about many times in his career.
A few of his past discoveries include famed Rhône-region Châteauneuf-du-Pape producers Domaine de Marcoux and Domaine de la Janasse. When Mr. Solomon first brought their wines into the States in the late '80s, few wine drinkers cared about Châteauneuf-du-Pape, and most oenophiles considered them rustic country wines, no better than Côtes du Rhône. But Mr. Solomon was able to get his wines in front of influential sommeliers and wine critics, such as Robert M. Parker, Jr. , and today these two domaines are among the most sought-after in the now-famous region-with the best Châteauneuf-du-Papes selling for well over $100 a bottle. Mr. Parker, an early champion of Châteauneuf-du-Pape, said in a phone call that there were perhaps 12 good producers in the region in the late 1980s, and now there are at least 100 great domaines.
Mr. Solomon accomplished as much for Albariño, the white grape from the Rías Baixas region in Galicia that every wine drinker today seems to love. When Mr. Solomon began importing one of the best Albariño estates, Pazo de Señoráns, in 1991, the grape was almost completely unknown. Since then, the importing of Albariño has increased exponentially. According to Wines from Spain, a trade organization, more than 3.5 million bottles were exported to the U.S. in 2013, compared with just under 90,000 in 1995.
Mr. Solomon is also credited with helping discover the Priorat region of Spain and one of its superstar wineries, Clos Erasmus. The wines from that estate so impressed him that he not only imported them to the U.S. (where they gained instant cult status) he later married their creator, Daphne Glorian.
Ms. Glorian had sent samples of her wines to Mr. Solomon soon after he founded his company, just as many wine producers do today. Mr. Solomon estimates he receives at least 800 wines annually in this fashion.
My scouting trip with Mr. Solomon and Mr. Gonzalez began at seven o'clock in the morning, when it was still very dark. We were heading north from Madrid to Sierra de Gredos, a little-known subregion in the mountains, within the Madrid D.O. Home to some of the oldest and highest-altitude Garnacha vineyards in Spain, Sierra de Gredos is where two young producers, Daniel Jiménez-Landi and Fernando García, are making remarkable old-vine Garnacha wines under the Comando G label, which Mr. Solomon tasted late last year. As we drove, he described it as "one of the most exciting new projects in Spain today."
Even though he already has many old-vine Garnachas in his portfolio, Mr. Solomon found the Comando G wines so refined, they tasted more like Pinot Noir than Châteauneuf-du-Pape, he said. (Châteauneuf-du-Pape is sometimes made entirely from the Garnacha grape, called "Grenache" in France.) In fact, they were unlike any Garnacha he'd ever tasted. Not only are the vines very old (80 to 90 years old), they were grown on granite soil, rarely the case with Garnacha.
We met Mr. Jiménez-Landi and Mr. García at one of their vineyards, where they were fertilizing the vines with sheep manure packed onto the backs of two sturdy draft horses. (All Comando G vineyards are worked by hand or horse. The parcels are tiny and the terrain is rough.) The Sierra de Gredos region is only an hour and a half from Madrid but so remote that most people-including Spanish wine drinkers-have never heard of it, said Mr. Solomon, who described the sparse, rocky topography as "New Zealand meets Mexico meets Colorado."
Source: WSJ