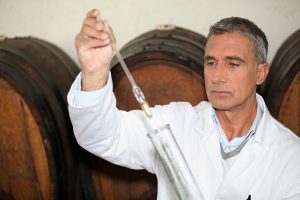 A recent Tales of the Cocktail panel dove into the detailed science and processes of creating flavor characteristics in spirits today. The seminar was called "Better Drinking Through Chemistry" and was packed full at this year's Tales of the Cocktail convention in New Orleans. The panel focused on spirits maturation and featured two PhD scientists: Dr. Matthew Crow from Diageo and Dr. Don Livermore from Wiser's/Hiram Walker.
The panel discussed different aspects of spirit maturation science and practice, showing the audience how analytical studies allow producers to create specific flavor characteristics for their various brands. Topics ranged from the molecule lignin, which is at a much higher concentration in rye than in other whiskey grains, to how the yeast-derived flavors of a spirit (fruity, floral, green grass, soapy and sulfur) are separated through pot distillation.
The seminar provided attendees with an introduction to just how complicated the chemistry of aging spirits can be and how advanced the science of understanding it all has come.
Source: SEVENFIFTY Daily, July 2017