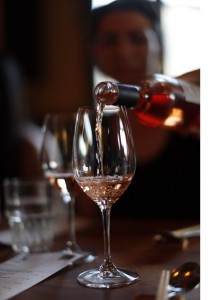 In the private dining room of Flour + Water in San Francisco last week, guests dined on a five-course, all-rosé meal that included braised beef shank paired with a smoky, chalky Sicilian Nerello Mascalese rosé. A few days later, Kermit Lynch teamed up with the restaurants Pink Zebra and Namu Gaji for a similarly sophisticated pop-up dinner that also featured solely rosé wines. Fine-wine seller K&L Wine Merchants, with a shop in SoMa, carries 36 domestic rosés and 128 rosés in total – more than double from four years ago.
"We can't keep rosé in stock," said Geno Tomko, wine director for the Ne Timeas Restaurant Group, which in addition to Flour + Water operates four other restaurants. "For the past month and a half, rosé has been the best seller every single night at every single property."
"The rosé revolution is here," proclaims Jeff Morgan, owner of Covenant Wines in Berkeley. The comeback of delicious, refreshing dry rosé – after decades of being haunted by the cloying shadow of white Zin – is one of wine's greatest success stories.
Will a couple of Instagram celebrities ruin that?
Josh Ostrovsky (@thefatjewish) and brothers Tanner and David Oliver Cohen (@babewalker), followed collectively by about 6 million Instagram users, made a splash this season when they debuted White Girl Rosé, their first effort in wine production. Ostrovsky has come under scrutiny in recent weeks for appropriating other people's jokes. Now, to some in the wine world, it looks as if Ostrovsky and the Cohens have similarly appropriated – and capitalized on – a decade of work by wine lovers to introduce America to the beauty and versatility of dry rosé.
There was a time – a long time – when sophisticated wine drinkers wouldn't have dreamed of sipping pink wine in public, especially if they were male. Blush wine was inextricably linked to Sutter Home White Zinfandel, Bob Trinchero's happy accident – a saccharine, hot-pink result of a stuck fermentation in 1975. By 1984, Sutter Home was producing 1.5 million cases of white Zin a year. Statewide, California produced 14 million cases of white Zin in 1990; by 2000, that figure had ballooned to 21.4 million.
Throughout that period, there was a small but faithful group of defectors in California, including Robert Sinskey Vineyards, Saintsbury and Bonny Doon, who emphasized their distinction from the white Zin phenomenon by calling their rosé wine, made of Pinot Noir, "vin gris." ("Nobody would buy something called rosé," Bonny Doon owner Randall Grahm said. "Vin gris sounded better.")
Morgan, who in 2000 founded the rosé-only label SoloRosa, was among the Golden State's staunch believers in the versatility and high-quality potential of Provencal-style rosé – bone-dry, pale in color and deeply flavorful. "It was inevitable," Morgan said. "Eventually, people would realize that you can drink anything with a glass of dry rosé and be happy."
Source: SF Chronicle