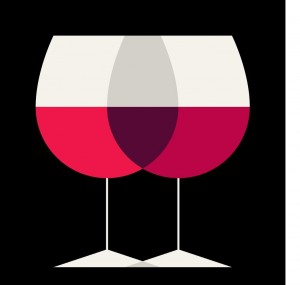 THEY'RE FRIENDLY, they're cheap and they're easy to drink-three very good reasons domestic red blends are some of the most sought-after wines in the market today. Although blended reds aren't new (they've been produced for centuries all over the world) thanks to a number of talented winemakers and even more-clever wine marketers, these wines-particularly those made in California and Washington State-are a seemingly unstoppable trend.
Nielsen's January 2015 report says the domestic red-blend category accounts for $900 million in retail sales annually and is one of the fastest-growing wine sales categories in the country. Much growth is fueled by drinkers "who are switching to red blends from other types of wines," said Brian Lechner, Nielsen vice president, group client director for alcoholic beverages.
Retailers are ready to assist with the transition. I've found red-blend aisles in just about every wine shop and grocery store I've visited in the past several months, including Gary's Wine & Marketplace in Wayne, N.J., where sales associate Jeffrey Davis said, "The public is clamoring for red blends." With a sweep of his arm Mr. Davis took in some 75 bottles of wine.
What accounts for so many wine drinkers' collective decision to change from varietal wines to blends? Were they tired of keeping track of grapes and regional names? (The labels of many red blends offer little geographic information beyond the name of a state.) Or was it their bright labels and clever names (Wildebeest, Frog Prince, Kitchen Sink) that attracted buyers, the way "critter" wines from Australia, such as Yellow Tail and the Little Penguin, beguiled them a decade ago?
Jessica Certo, wine director of Del Frisco's Double Eagle Steak House in New York, thinks the styling of blends is what makes them popular. "A lot of the edges get blended out," she maintains, and by "edges" Ms. Certo means tannins. There is also the matter of a friendly price: Blends are generally much cheaper than the domestic Cabernets on the Del Frisco list. Perhaps that's why they are popular among weekend diners, who are largely spending their own money and not using an expense account, said Ms. Certo.
An edgeless wine was exactly what Morgan Twain-Peterson had in mind when he created Shebang! Eighth Cuvée in 2009. Mr. Twain-Peterson, of the Bedrock Wine Co., in Sonoma, created the wine for his "college self," he said, harking back to a time when he favored lively, juicy reds. It was also a practical addition to his portfolio, helping with cash flow while his more-expensive Zinfandels were aging. (The winery cash flow has decidedly improved since Shebang was first introduced; the initial production of 700 cases a year has risen to 6,000 today.)
Like many winemakers, Mr. Twain-Peterson doesn't note the varietal content of his blend on the label. In his case it might be a matter of varietal paranoia. A lot of people have a negative impression of Zinfandel, he said. Zinfandel is one of the grapes of the Shebang blend, along with Carignane, Petite Sirah, Alicante Bouschet, Syrah, Grenache and Mourvèdre. (Perhaps there are also too many names to fit on the label?)
Mr. Twain-Peterson pointed out that while Shebang is much cheaper ($12) than his old-vine Zinfandels (which can cost as much as $50), his winemaking and philosophy are the same at both high and low ends. Shebang wasn't some cheap concoction "sourced from the bulk-wine market or pumped up with additives like Mega Purple," he said, referring to a concentrate commonly used to make cheaper reds darker and sweeter. Shebang is produced from some of the same old-vine Zinfandel vineyards he uses for his pricier wines.
When did this domestic blend-mania begin? Every wine professional I asked gave me the same answer: When the Prisoner made its debut, in 2001. A Napa Valley red created by Dave Phinney, the Prisoner was the first American red-blend superstar-though it came about more by accident than design.
The 2000 harvest was difficult in Napa, Mr. Phinney recalled, and he had small quantities of grapes-Zinfandel, Cabernet, Syrah, even some old-vine Charbono-that he didn't know what to do with. The wine Mr. Phinney created was big and bold and featured such a striking label (a reproduction of Francisco Goya's sinister-looking "Little Prisoner") that it attracted a cult following almost immediately. (The wine also got very high critic scores.) The first vintage was a mere 385 cases. By the time Mr. Phinney sold the brand, in 2008, he was producing 85,000 cases a year.
Although today's Prisoner is no longer the work of Mr. Phinney, customers nationwide still seek it out. "Even when we put it on the lowest shelf in the store, people find it," said Steve Fahy, sales director of the Wine Library in Springfield, N.J.
I bought about 20 domestic red blends, ranging from $10 to $40. The Prisoner was at the top end, as were six other wines. Although some domestic red blends cost hundreds of dollars, I focused on a price range where most wine drinkers are likely to shop.
Red blends are a big trend in domestic wines that neophyte drinkers are embracing. WSJ's Lettie Teague discusses what to look for. Photo:iStock/gmast3r
I tasted the wines with several groups of friends, all of whom experienced the same "friendly" feeling Ms. Certo had mentioned, even if they couldn't explain the source of the emotion. Were they responding to the colorful labels? The memorable names? Or the fact that they didn't have to consider the grapes? One taster was skeptical: "If it says red blend, I'm suspicious," said my friend Warren. "I think it's full of grapes that couldn't make it on their own."
The cheaper blends were largely disappointing, or worse: simple and sweet. (Mega Purpled perhaps?) Some exceptions were the Shebang! Eighth Cuvée ($12), the juicy Marietta Cellars Lot 61 Old Vine Red ($12) and the 2012 14 Hands Vineyards Hot to Trot from Ste. Michelle Wine Estates ($10). That last was perhaps the simplest of the wines that we liked from this group.
At the higher end, the Prisoner was perhaps the biggest disappointment-ripe, confected and so sweet my friend Neal was certain I'd slipped a dessert wine into the tasting. (It did bear a resemblance to Port-and boasted a similarly lofty alcohol content of 15.2%.)
Happily, the Prisoner was one of but a few pricey duds. As the numbers rose, the wines markedly improved. Favorites in the $20-$40 range included the juicy, red berry-inflected 2012 Ridge Vineyards Three Valleys ($25), a Zin-dominant blend from an ever-reliable producer; the rich, ripe and intense Grenache-dominant 2011 DYN 2880 Napa Red ($40), from Calistoga in Napa; the 2012 Chappellet Mountain Cuvée ($27), from the venerable Napa-based Chappellet estate; and the 2011 DeLille Cellars D2, a $40 blend featuring Cabernet, Merlot and Cabernet Franc from Washington State.
I asked DeLille Cellars winemaker Chris Upchurch if he thought it was harder to make a great blend or a varietal wine (he does both). The former, he answered straight away. It had to be deliberately made, built "from the ground up" with grapes grown and selected to fulfill an ideal, rather than created from a random assemblage of grapes. "A great blend, like a great rosé, is intentional," he said.
What is the future of red blends? I asked their progenitor, Mr. Phinney, who told me he thought that winemakers could "run into a problem if they are chasing a category." But if they are producing something based on an ideal, on an actual winemaking philosophy, he said, the wines will be much more likely to endure-long after the trend of red blends comes to an end.
Source: WSJ