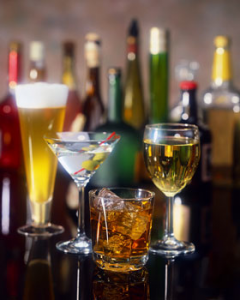 Supporters of liquor privatization are working on a compromise that would expand wine sales into grocery stores, restaurants and beer distributors but leave state liquor stores with the exclusive right to sell spirits such as whiskey, gin and vodka.
Extracting Pennsylvania from the alcohol trade has been one of Gov. Tom Corbett's goals, but like Republican governors before him, and despite GOP control of the House and Senate, his efforts have gotten caught in the web of competing interests that comprise Pennsylvania's liquor business.
Last year, the House passed legislation ending the Liquor Control Board's liquor monopoly and broadly expanding sales of all forms of alcohol, but it stalled in the Senate, where Republican leadership supports a more measured approach.
The latest compromise, which remains subject to negotiation, is an effort to find a middle ground.
"Conversations are continuing," said Chris Brennan, spokesman for Lieutenant Gov. Jim Cawley, whom Corbett placed in charge of reaching a deal. "We are optimistic we can get something done."
A draft of the evolving plan obtained by The Morning Call would give grocery and convenience stores the ability to purchase wine retail licenses for $10,000 a year, allowing them to sell shoppers up to four bottles of wine per visit. It also creates a new category of wine-only specialty stores.
Beer distributors could purchase wine licenses and break cases of beer into six packs. Bars and restaurants could buy wine licenses and sell up to three six packs of take-out beer. Convenience stores would be permitted to sell beer, even if located in a gas station.
LCB-qualified wineries could ship a limited quantity of wine directly to consumers, subject to a 12 percent tax. All state-owned wine and spirits stores, still the exclusive retailers of hard liquor, could open on Sundays.
It would also direct the LCB and the Legislative Budget and Finance Committee to study leasing the state's wine and liquor wholesale business to a private operator.
A provision that requires the LCB to sell wine to retailers at a deep discount would take an eventually fatal bite out of state wine and spirits stores' profitability, said Wendell Young IV, president of the United Food and Commercial Workers Local 1776, which represents state store clerks.
"The damage to the system would be enough that in effect they would be shutting it down within a few years," Young said.
The nation's distilled spirits industry isn't a fan of the proposal either, saying it would make it so easy to buy wine and beer that consumers will purchase less vodka, whiskey and tequila.
It also will cost the cash-strapped state $20 million a year in part because the LCB would continue to operate state liquor stores while losing revenue to private retailers, according to an analysis of the proposal by the Distilled Spirits Council of the United States.
"If the state goes down this road, customers will be penalized and the state will lose money," said David Ozgo, the group's chief economist.
It's uncertain that the plan will satisfy the state's influential beer distributors, who oppose a dramatic expansion of beer sales. "The PA Beer Alliance is happy to see the conversation moving more toward changes resulting in consumer convenience/modernization and away from full-fledged privatization," said the group's president, Jay Wiederhold.
It has also prompted a counter-proposal from Bucks County state Rep. Gene DiGirolomo that leaves the state in charge of selling wine and liquor, but gives the LCB more freedom to set prices, expand hours and create a liquor store-within-a-store program for grocery stores.
Progress on liquor would give the embattled Corbett something to tout on the campaign trail, said Muhlenberg College political scientist Chris Borick.
"Republican leaders may want to give him some type of 2014 legislative accomplishment on liquor, especially if it's fairly limited in scope, to boost his reelection efforts," Borick said.
To do that, lawmakers will need to hit the elusive legislative "sweet spot," said Steve Miskin, spokesman for House Majority Leader Mike Turzai, the leading privatization advocate.
"We are working with the Senate and trying to come up with a plan that would get 26 votes in that chamber and 102 votes in our chamber," Miskin said.
Source: The Morning Call
http://www.mcall.com/business/mc-pa-wine-beer-plan-20140323,0,2098277.story