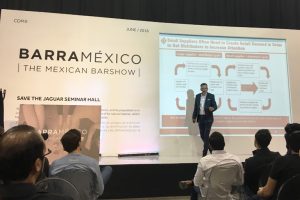 Mexico City, MX – On June 10th and 11th, 2018, Barra México, the leading trade show for premium spirits in Latin America, welcomed bar industry professionals from over 41 countries to Mexico City, which boasts one of the world's most dynamic cocktail cultures. Over 135 alcohol producers from all over the world gathered at the CitiBanamex Center to present their products to trade professionals, partake in tastings, and attend seminars geared toward enhancing market and brand development.
On Sunday, June 10, Park Street CEO Dr. Harry Kohlmann offered a presentation on Routes to the U.S. Beverage Alcohol Market for Entrepreneurial Brands, granting insight towards accessing target markets in the U.S. as a developing brand overseas. Dr. Kohlmann discussed the constantly evolving industry and posed potential solutions to navigate through various distribution obstacles in a highly regulated and consolidated landscape. He provided pathways to effectively identify and address customer and consumer needs for brands with international growth ambitions.
Pioneered by Dr. Kohlmann and President Chris Mehringer, Park Street offers an innovative platform for craft wine and spirit brands to penetrate the U.S. market. Park Street is a leading provider of productivity-enhancing and cost-saving back-office solutions, advisory services, and working capital to several thousand alcoholic beverage brands from the US and around the world. The company's clients range from entrepreneurs to multi-brand global suppliers, and include craft distillers, centuries-old family businesses, award-winning wineries, innovation brands, and more.
Barra Mexico 2018 was held at the CitiBanamex Center at Lomos de Sotelo, Hipodromo de las Americas, 11200 Miguel Hidalgo, Mexico City. Barra Mexico is a yearly event.
For more information or to request Dr. Kohlmann's presentation, please contact the Park Street team at marketing@parkstreet.com or call (305) 967-7440.