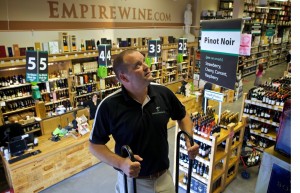 As New York wine retailers gear up for the busy holiday season, a legal brouhaha over whether they can ship bottles out of state is hovering like a dark cloud over the industry.
After Empire Wine in Albany was charged by the New York State Liquor Authority with illegally shipping wine to consumers in 16 other states-and threatened with the revocation of its retail license-the 14-year-old business countered in September with a lawsuit.
Its complaint: The agency overstepped its jurisdiction because New York itself has no law banning interstate sales.
"It's claiming the right to defend other states' laws," Tom Wark, executive director of the National Association of Wine Retailers, said of the liquor authority. "No one has ever claimed that before."
In the absence of a New York law, the liquor authority is pursuing Empire under a state regulation allowing it to revoke, cancel or suspend a liquor license on the basis of "improper conduct."
In its lawsuit, Empire calls that regulation "unconstitutionally vague" because it fails to provide reasonable notice to licensees as to what improper conduct actually entails.
William Crowley, a spokesman for the liquor authority, said merchants are responsible for checking other state's laws and regulations, and for obtaining proper permits, before shipping across state borders. Empire, he said, had engaged in more than 11,000 illegal interstate sales of alcohol that also lacked the "packaging requirements, quantity limits or safeguards" to ensure the products weren't being sold to minors.
With the court expected to decide early next year on whether the New York liquor authority's action against Empire is justified, legal experts and other wine sellers are watching closely.
Many see it a test case for whether retailers at large will be able to continue direct-to-consumer shipping across state lines.
A 2005 Supreme Court decision, citing the Commerce Clause of the Constitution, required states that allow their own wineries to make direct-to-consumer sales to also allow out-of-state wineries the same privilege. But retailers, which weren't covered by the decision, are still restricted by state-specific statutes.
Some New York merchants, who say the state's low excise taxes for wine give them a competitive pricing advantage in the national online marketplace, predict a decision against Empire would have a chilling effect on their business.
A spokesman for Empire said Internet sales comprise "a substantial amount" of the company's business. Should it lose the legal battle, Mr. Junco said, Empire could be forced to lay off about half its 50-some employees.
The state's broader industry would also suffer, said Lindsey A. Zahn, an alcoholic-beverage attorney with Virginia-based firm Lehrman Beverage Law.
Discouraging Internet sales works against recent efforts by Gov. Andrew Cuomo to actively promote the state's wine-and-beverage industry, she said. And many retailers are champions of local producers; about 10% of what Empire sells are New York-made wines, according to Mr. Junco.
"It's unfortunate because New York is a growing wine region," said Ms. Zahn.
Mr. Wark, who called the state's action an "obscene overreach," said if upheld, it could change how liquor laws have been administered for 80 years.
Since Prohibition, laws governing interstate sale and distribution of alcohol have become a tangled thicket, with little consistency between states.
"The whole shipping issue is extremely confusing," said Scott Osborn, president of the New York Wine Industry Association. "There's no [New York] law saying you can't do it, [but] you can't break the laws of another state."
Still, legal experts say, most states have been routinely lax about enforcing such laws. California's Department of Alcohol Beverage Control, for example, stipulated in a 2006 lawsuit that it "has never taken enforcement action of any type" against retail licensees in other states who sell to California residents for personal use, citing other priorities.
Empire owner Brad Junco said the company has never received a cease-and-desist letter ordering it to stop sending wines across any state lines. He added that he was confused about why, after more than a decade of operating in this way, he was now being pursued.
Mr. Crowley said the action against Empire was prompted by a complaint the liquor authority received, though he wouldn't specify its origin.
Empire isn't the first company to be charged over out-of-state shipments, said Mr. Crowley; a Poughkeepsie beer distributor and a handful of liquor stores-in Brooklyn, Rochester and Long Island-have also faced charges.
But Empire is the first to file a lawsuit challenging the liquor authority. In doing so, said Mr. Wark, the company is "doing a service for all retailers."
Maybe not all retailers, said Noreen Healey, the liquor authority commissioner between 2006 and 2011. She said that while Empire's shipments weren't illegal in New York, they likely affected the competitiveness of mom-and-pop merchants in other states.
"It's not a victimless crime," she said.
For now, the liquor authority is proceeding with its effort to revoke the company's license, with a hearing set for Jan. 23. Until then, said Mr. Junco, Empire will continue shipping to out-of-state customers.
Source: WSJ