A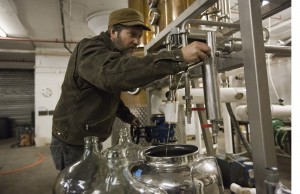 fter months in limbo, Van Brunt Stillhouse is finally able to pour a stiff drink.
The Red Hook, Brooklyn, distillery, which crafts rum and whiskey, is among a growing number of small-batch spirits makers around the state that can now offer new and expanded beverage service after the Craft New York Act went into effect on Saturday.
Originally passed in June, and signed into law by Gov. Andrew Cuomo in November, the legislation was designed to ease regulations and promote growth for the state's surging craft-beverage industry.
One thing the law will do is permit small distilleries like Van Brunt to serve full-size pours of their booze-not just the quarter-ounce samples previously allowed-without having to obtain a separate license. And that opens the door to a wider world of cocktails, on-site cafes and private events.
"Straight shots turn some people off; that's not how they drink at home," said Jason Barrett, head distiller at Black Button Distilling in Rochester, N.Y., which makes gin, vodka and bourbon. Before, he said, when he poured a small sample of gin, people would ask for tonic water as well-but that wasn't a legal option.
The ability to offer mixed drinks, experts say, is critical to drawing locals and tourists alike to visit boutique booze makers, some of which are in remote rural areas.
At Van Brunt, which has been producing spirits since 2012-and has been a licensed farm distillery since December 2013-owner Sarah Ludington expects the new law will help bolster an important revenue stream. Even before the law was enacted, Van Brunt's tasting room accounted for about 16% of 2014 revenue through early November, said Ms. Ludington-behind only sales to traditional retailers and contract distilling.
With fewer regulations, New York already is "one of the best states in the country to be a craft distiller," along with Oregon and Michigan, said James Rodewald, author of a book on American craft distilling. Since early 2011, New York's so-called farm distillers-which needn't operate on an actual farm, but must source at least 75% of raw materials in-state-have grown to 61 from 10, according to the New York State Liquor Authority.
With the new law easing restrictions further, some operations are thinking beyond just bare-bones bar expansions. The owners of Hudson Valley Distillers in Clermont, N.Y., envision a "cocktail cafe," where leaf-peepers can linger with drinks and local charcuterie. Dutch's Spirits, in Pine Plains, N.Y., has plans to construct a farm-to-table restaurant on site.
And Black Button is planning to rent out its century-old building for parties and events. In the past, said Mr. Barrett, the head distiller, the limits on alcohol service undermined such space-rental requests. "Tasting doesn't cut it-people want to order a drink."
Opening up diverse income sources, experts say, can help fledgling booze makers stay in business long enough to properly age their spirits.
"Distilling is a capital-intensive business, when you think about the machinery," said Chris Moyer, co-founder of Hudson Valley Distillers. "And it's a long revenue cycle." Adding potential money makers like cafes and private events is "a very big deal," he said.
Spirits producers aren't the only businesses that stand to benefit. Some plan to hire local providers to bring in charcuterie, cheese plates and other light fare that doesn't require on-site cooking. Others plan to hire caterers for local events.
Also likely to benefit: local tour operators, "booze buses" and car services that will help keep intoxicated drivers off the road.
Which may or may not appease wary neighbors. After Warwick Valley Winery and Distillery's cafe and tasting room became a popular destination for drinkers of hard cider, a sign turned up on a nearby bucolic road, admonishing people, "Don't Drink and Drive."
Co-owner Jeremy Kidde appeared unconcerned. "We really haven't had a problem," he said.
For its part, Hudson Valley hopes to avoid upsetting rural residential neighbors by closing its cafe by 8 p.m., and connecting with Safe Ride vans to shuttle guests home.
While the ink is still drying on the law, farm distilleries are still learning what they can and can't offer. Spirits produced outside of New York state, for example, can't be served without a special license. And vermouth is off limits in these settings as well, said Ryan Malkin, an attorney representing the New York State Distillers Guild, a nonprofit trade group.
"It won't become a full-fledged bar," said Ms. Ludington of Van Brunt's newly refurbished tasting room with its rustic wood-plank walls, rope-wrapped chandelier and blue marlin model hanging in front of tall windows. "But it will become more of a draw."
Colin Kennedy, 31, of Ditmas Park, Brooklyn, for one, was willing to give it a try. "Red Hook is a little further afield than I would usually go," he said, sipping on a white whiskey Old Fashioned at a recent preview of Van Brunt's tasting room. "It's an exotic trip."
Source: WSJ