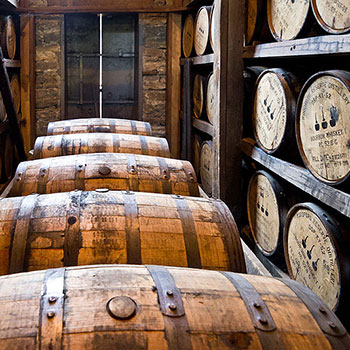 Spirits hailing from Kentucky made up 21% of total US spirits exports in 2013 as global demand for Bourbon continues, new figures have revealed.
Spirits such as Woodford Reserve Bourbon have helped Kentucky's exported spirits reach US$383m in 2013
According data released by the Commonwealth of Kentucky's Cabinet for Economic Development, exported spirits distilled in the State hit US$383 million last year.
Kentucky distilled spirits were exported to 88 countries in 2013, the most of any state.
The top export destinations were: Mexico (US$187m), Netherlands (US$63.5m), Singapore (US$12.6m), Thailand (US$12.4m), and Panama (US$11.9m).
"Distilled spirits remain a marquee industry in the Commonwealth, one clearly enjoyed all around the globe," said Kentucky Governor Steve Beshear.
"This industry not only helps provide a good quality of life for the thousands of Kentuckians it employs, but also supports a host of other related businesses as well."
American whiskey, including Bourbon – 95% of which is produced in Kentucky – was the State's most export spirit, reaching sales of over US$300m. Kentucky exported its whiskies to 77 countries in 2013, accounting for 23 percent of domestic whiskey exports.
Kentucky's second largest distilled spirits export were liqueurs and cordials, for which sales reached US$51.2m. These spirits were exported to 56 countries, while the Commonwealth accounted for 40% of US exports in this category.
"Everyone thinks we're the number one state for whisky, but we're in the top five for most major categories," said Cabinet for Economic Development Secretary Larry Hayes.
"Liqueurs and cordials had a 304% increase. And you can look at recent expansion announcements at every major distiller that will drive these numbers even higher."
Kentucky's Cabinet for Economic Development also noted that the State's distilled spirits industry employs around 3,260 people.
An annual economic report recently released by the Distilled Spirits Council of the US (DISCUS) revealed that in total, the US market saw spirits volumes increase 1.9% to 206m cases, while supplier revenue grew 4.4% to US$22bn.
Source: The Spirits Business
http://www.thespiritsbusiness.com/2014/03/kentucky-produces-fifth-of-us-spirits-exports/