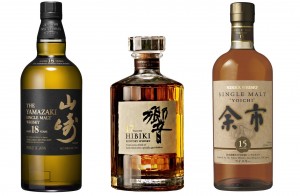 It was a bright, clear morning as we took off from Tokyo's Haneda Airport. A few minutes into our flight, the captain announced that for those on the right side of the plane, Mt. Fuji would soon be coming into view. I was on the left, but a few of us got up anyway to catch a glimpse of Japan's highest mountain. Flying, it's easy to feel alienated-cocooned in a metal cylinder, with nothing but a view of the clouds and a television screen-but for that brief moment, peering out of the plane's window, I really felt a sense of place.
It's a theme I had been mulling over ever since I arrived in Japan. Although the country has a small wine industry-Grace Wines being a notable estate to look out for-and an internationally renowned sake industry, it was its fledgling whisky industry that seemed to be in the national consciousness when I visited. "Massan," a new miniseries about one of the founders of Japanese whisky, was airing. It tells the story of Masataka Taketsuru, who went to Scotland in 1918 to study organic chemistry at Glasgow University, and there fell in love with whisky and the art of distilling.
He returned to Japan not only with the knowledge of how to make whisky-having worked at Hazelburn in Campbeltown-but also with a Scottish wife. ("Massan" tells the story of their relationship.) Working with a wine producer and importer, Shinjiro Torii, he oversaw production at Japan's first whisky distillery, in the valley of Yamazaki near Kyoto. Later, he established his own Yoichi distillery on the northern island of Hokkaido, where he believed the conditions were more suited to the production of whisky.
Taketsuru's name was also in the press last month when Takeshi Taketsuru, his adopted son who was also a celebrated distiller, died at the age of 90.
Japanese whisky is experiencing something of a purple patch; in November critic Jim Murray named a single malt from the Yamazaki distillery the "best in the world." I'm not so sure you can ever name one drink the best in the world. I rather agree with whisky writer Charlie MacLean, who says that, like wine, each whisky should be appreciated within its own category.
So what of Japanese whisky? The first thing to note is that it's the nearest in style to Scotch whisky. In fact, tasting a range of whiskies back in London at the Athenaeum hotel's whisky bar, I thought, "If these were served blind, it would be very hard to discern if they were Japanese or Scotch." I tasted whiskies from both of Taketsuru's distilleries, the Yamazaki and Yoichi. They are very correct-tasting and clean, something Mr. MacLean puts down to good "wood management"-the selection of barrels for maturation. But do they reflect a sense of place?
One way of answering that is to look at Scotch whisky and what gives it its unique character. Mr. MacLean cautions against using words such as "terroir" and says that flavor comes instead from impurities or "congeners," the by-products of fermentation other than alcohol. In that sense, he says Scotch has more character.
As with Burgundy and Bordeaux, I can appreciate them both. What I would say is that Japanese whiskies deserve their moment in the spotlight. At the very highest level they can certainly compete and they're well worth considering the next time you are perusing a whisky menu.
Source: WSJ