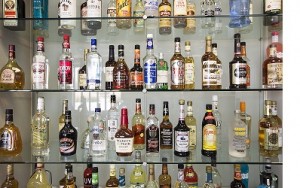 Several bottles of highly sought-after Old Rip Van Winkle bourbon – which can retail for hundreds or even thousands of dollars a bottle – sit in a locked cage at the Iowa Alcoholic Beverages Division (ABD) warehouse.
At the other end of the facility, which sits on a 14.5 acre site in Ankeny, long rows of boxes containing Black Velvet Whiskey, the state's top selling liquor, tower over a team of state employees filling orders for stores around Iowa.
All this Black Velvet will fill about six weeks worth of orders, ABD comptroller Tammy Plowman said.
In between the locked cage and the pallets of Black Velvet are aisle after aisle filled with more than 1,900 varieties of liquor. Every bottle of hard liquor sold in Iowa passes through this warehouse.
The state acts as wholesaler for all spirits sold in Iowa. It has controlled this process since 1934, the year after Prohibition's repeal.
Today, the division which runs this huge and very lucrative operation – it brought in more than $255 million in revenue for the state in fiscal year 2013 – is working to accommodate a changing market. The ABD is responding to growing demand for a greater variety of products and an increasing interest from consumers in small batch and craft liquors – products such as Old Rip Van Winkle's bourbon.
"It's all demand driven. People previously weren't aware of these products, but now there's a higher demand for them," Plowman said.
For bartenders such as Ryan Manka of Cobble Hill in Cedar Rapids, that's good news that he hopes will help his drink recipes stay innovative.
He looks at bars in places such as Chicago or Minneapolis or St. Louis and thinks, "We could match what they're doing if we could just get the products."
"We are really several years behind as far as cocktail culture," he said. "A lot of liquors you can get in other states you can't get here."
If he reads a rave review of a brandy he wants to add to the restaurant's menu, Cobble Hill must order it from a Class-E licensee – the category includes such places as liquor stores, convenience stores and grocery stores. Cobble Hill works with Benz Beverage Depot in Cedar Rapids.
Benz places an order with the state, and the state then orders the product from the distillery that makes it.
For the vast majority of orders, the state will have product available on hand, and liquor stores can order them by the bottle, the case or the pallet.
But for things not on the state's official product list, Benz has to place a special order of at least one case of that product.
The state will order any product that comes in, but it might take time to fill the order. Benz General Manager Matt Hamlin said the amount of time varies widely, from a week to several months.
For Cobble Hill, that delay has meant the restaurant periodically has to take one of its most popular cocktails, the Ol' City, off its menu because the it can't replenish the main ingredient, Old Forester whiskey.
The ABD is working to address the concerns of businesses such as Benz and Cobble Hill, Plowman said. The division is striving to fill special orders more efficiently and working to add more items to their regular list, including some of the more popular special orders.
Some 4.9 million gallons of liquor moved through the warehouse in fiscal year 2013. That's up from 3 million gallons in 2003.
Last year, the 33-year-old warehouse added shelves for the first time, which allowed for increased space and the addition of thousands of product varieties.
"We've stepped up our efforts," she said. "We're just trying to get better at everything we do."
Each staff member – the warehouse has 25 full-time workers – is processing an average of 170 cases an hour while filling orders, said Micky Truman, an inventory control specialist.
The division also is preparing to unveil a new website to streamline product ordering.
"We want to keep new things out there for Iowa consumers, so you don't see it in a magazine but can't get it for months and months," Plowman said.
The Old Rip Van Winkle the division keeps under lock and key falls in another category. It is a "highly allocated" product – meaning the distillery only has made a limited amount available to the state.
The division then emails all 900-plus stores to which it distributes, each of which has a chance to place orders by the bottle. If more stores want the product than there are bottles available, they are distributed by lottery.
"I feel like we do a really good job of giving everyone a chance to get those special allocations," Plowman said.
Equal treatment
Hines said for a place such as Benz, which works with higher-end bars, that's a double-edged sword.
"The bad things is the people who were doing the work to find out about the items might not get them," he said.
But it also means a small business such as Benz gets equal treatment with huge retailers such as Wal-Mart or Costco. The state sells to all of them at the same price and offers all of them the same products.
"I do think that the system is set up well to protect everyone," he said.
Across any of Iowa's borders, the system is fully privatized. Though all 50 states regulate alcohol sales, Iowa is one of 17 "control" states, in which the state acts as the wholesaler for at least part of the liquor industry.
Iowa slowly has lessened its control system over the years. The state used to sell all alcohol through state-run stores and managed wine and beer as well as hard liquor.
That changed in the mid-1980s when the state stores closed, and beer and wine distribution were privatized.
Plowman said the control system allows the state to keep better track of more potent, higher proof products. It can make sure they're labeled correctly and all taxes are collected.
It also can work for the public good, using revenue to provide training for bartenders and others on how to tell if someone is overserved and how to spot underage drinkers. A portion of revenue funds alcohol-abuse prevention and training.
"The state has a unique perspective," Plowman said. "We're able to balance social responsibility with the bottom line."
By taking control of the liquor, the state not only regulates the flow of booze, it collects a hefty amount of cash. The ABD marks each bottle it handles up by about 50 percent.
In fiscal year 2013, the Iowa Alcoholic Beverages Division brought in more than $295 million. Of that, $255 million came from spirit sales.
Since 1988, the division has transferred almost $2 billion in funding. Most goes to the state's general fund, about 15 percent goes to the Iowa Department of Health, and a small portion is distributed to cities and counties and to economic-development programs.
Manka at Cobble Hill acknowledged he sees the benefit of the system. He used to tend bar in St. Louis, Mo., where he often could get a wider variety of products from sales representatives, but also saw how those representatives could abuse the system.
If you wanted a bottle of something hard to get such as Old Rip Van Winkle, for example, they might require that you also buy a lot of cheap vodka you don't want.
"In other states, if you don't have a good relationship with the reps, you're not going to get good stuff," he said. "At least we don't have that in this state where you have to butter somebody's bread to get what you need."
Source: The Gazette