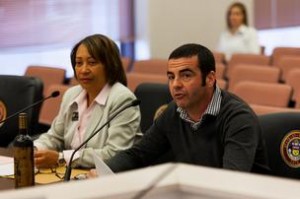 Gov. John Hickenlooper will sign a bill into law Friday that is expected to ramp up the number of Colorado wineries that are canning and kegging their products – and could lead to growth of jobs in the industry as well.
House Bill 1034, sponsored by Rep. Angela Williams, D-Denver, creates a new permit that will allow Colorado wineries to package other wineries' products and get them to wholesalers for distribution.
Ben Parsons, owner of Denver's Infinite Monkey Theorem winery, where Hickenlooper is scheduled to sign the bill, said he expects to hire as many as 10 more employees because of the new law. And he believes other wineries will expand as well, both those that also will begin packaging and those that will be able to distribute their products more easily and cost-efficiently.
"I think that it reconfirms the fact that Colorado is very proactive in how it pursues liquor and wine regulation in general, even when we're regarded mostly as a craft-beer state," Parsons said. "I think we'll see a lot more people kegging, a lot more people canning."
While Infinite Monkey Theorem is one of the few wineries that cans its product now, it part of a larger trend of vintners that distribute their products to restaurants and bars in kegs. Doing so eliminates the cost of bottling wine and reduces both the transportation costs and the environmental impacts of shipping cases of heavy bottles.
Still, many of Colorado's wineries are small businesses that don't have the capital to invest in kegging or canning lines. HB 1034 will allow them now to ship their products to bigger wineries in 275-gallon bladders at a cost lower than shipping 50 cases of bottles, and the larger businesses can keg, can or bottle them and introduce many Western Slope wines to Front Range establishments for the first time.
Source: Denver Business Journal
http://www.bizjournals.com/denver/news/2014/05/07/hickenlooper-to-sign-bill-spurring-new-methods-of.html?page=all
.