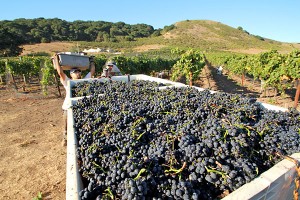 California wine sales rose by 5% in 2013 to capture 64% of total US sales, according to new figures released by the Wine Institute.
In total 215 million cases of wine produced in California were shipped within the US in 2013, up 3% by volume, with an estimated retail value of $23,1 billion, up 5% by value, according to the San Francisco-based Wine Institute.
Overall, sales of US wines within all markets, both domestic and international, increased 3% by volume to 258 million cases totalling $36.3 billion, a rise attributed to the popularity of higher-end wines priced $10 and over.
Jon Fredrikson of Gomberg, Fredrikson & Associates in Woodside, and wine consultant, said: "In 2013, wineries gradually released the highly acclaimed wines from the large 2012 California harvest, offsetting the slowdown in American wine market growth due to short vintages in 2010 and 2011 and continuing soft economic conditions.
"In response to these market factors, California wineries focused on sales of premium table wines priced at $10 and above, which increased by 9% in volume and made up nearly half of winery revenues."
The US Tax and Trade Bureau approved nearly 99,000 wine label registrations in 2013, the majority of which were from foreign producers, which crowded trade channels and vied for consumer attention and shelf space making for a very competitive market, according to Fredrikson.
Furthermore, over the past five years the number of alcohol production permits in the US increased by 4,100, up 47%, not only for new wineries, but for craft breweries, distilleries and cider producers.
Retail outlets selling wine continued to increase expanding by 62,000 locations over the last five years, up 12% to 550,000 outlets, according to the Nielsen Company.
Danny Brager, senior vice president of Nielsen's Beverage Alcohol Practice Area, said: "Retailers are stepping up their game with more sales locations, making wine more accessible to consumers than ever before.
"Consumers have also shown that they're willing to spend a bit more on a bottle of wine than in previous year's"
According to Nielsen, the most popular wine styles in the US were Chardonnay (20% share), Cabernet Sauvignon (13%), Merlot (9%), Red Blends/Sweet Reds (9%) and Pinot Grigio (9%), followed by Moscato (6%), White Zinfandel (5%), Pinot Noir (4%), and Sauvignon Blanc (4%).
Moscato, Malbec and red blends experienced double digit growth, with the next biggest growth in sales seen with Pinot Grigio and Pinot Noir.
Wine exports from the US totalled $1.55 billion in 2013 with the European Union the top destination accounting for $617 million, up 31% compared to the previous year, while drops to exports were seen in Japan and Hong Kong.
This was followed by Canada, $454 million, up 12%, Japan, $102 million, down 7%, Hong Kong, $78 million, down 12%, China, $77 million, up 6%, Mexico, $22 million, up 21%, South Korea, $18 million, up 16%.
Source: The Drinks Business
http://www.thedrinksbusiness.com/2014/04/californian-wines-grab-64-of-us-market/