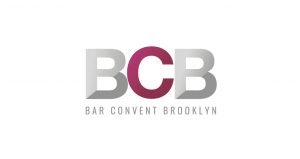 Bar Convent Brooklyn 2018, Bar & Beverage Trade Show
June 12 & 13, 2018, Brooklyn Expo Center
BAR CONVENT BROOKLYN ANNOUNCES SUPPORT FROM LEADING SPIRITS COMPANIES AND DIRECTOR OF EDUCATION
NORWALK, Conn. (November 14, 2017) – Reed Exhibitions, the world's leading events organizer announced today that leading beverage alcohol brands will deliver a unique display of premium products and world class education at the 2018 launch of Bar Convent Brooklyn (BCB), June 12 & 13 at the Brooklyn Expo Center in Brooklyn, NY.

An extension of Bar Convent Berlin, Bar Convent Brooklyn provides bar and beverage professionals with opportunities to network with peers and learn about new trends, techniques and products in the domestic and international markets.

"We are pleased to announce that Bar Convent Brooklyn will feature industry leaders Bacardi U.S.A., Campari America, Moët Hennessy and Pernod Ricard USA as Presenting Sponsors," said Paula November, Vice President of Bar Convent Brooklyn. "Their insight and influence will enable us to deliver the quality of products and learning opportunities that discerning bar and beverage professionals need to elevate their craft and career. We are also honored to have the support of our Platinum Sponsors Brown-Forman Corporation, E&J Gallo and William Grant & Sons, along with our Premier Media Sponsor, Liquor.com, and our Import and Wholesale sponsor, Park Street."

Since the announcement of BCB in spring 2017, the event's content has taken shape and expanded to include exclusive features, such as taste forums, demonstrations and education sessions from international as well as domestic industry experts. A curated selection of purveyors of premium spirits, mixers and bar equipment continues to join the list of exhibitors, as well.

BCB has also announced Angus Winchester as its Director of Education. In a long and illustrious career from Global Bar Consultant at Alconomics Asia to VP of Education and Training for Barmetrix, Winchester has won numerous awards, including Best International Brand Ambassador, Best Bar Mentor, and Wine Enthusiast Brand Ambassador/Mixologist of the Year. Renowned for his expertise in beverage programming, Winchester will develop leading edge education in both the craft and business realms of the bar and beverage industry exclusively for BCB.

For more information about attending or exhibiting at Bar Convent Brooklyn visit BarConventBrooklyn.com. To learn about sponsorship, partnership and exhibition opportunities contact Paula November at pnovember@reedexpo.com.

About Reed Exhibitions:
Reed Exhibitions is the world's leading events organizer, with over 500 events in 43 countries. In 2016 Reed brought together over seven million active event participants from around the world generating billions of dollars in business. Today Reed events are held throughout the Americas, Europe, the Middle East, Asia Pacific and Africa and organized by 41 fully staffed offices. Reed Exhibitions serves 43 industry sectors with trade and consumer events and is part of RELX Group, a world leading provider of professional information solutions. www.reedexpo.com

About Bar Convent Berlin:
Since its founding in 2007, Bar Convent Berlin has emerged as one of the leading international trade shows for the bar and beverage industry. Every year, the who's who of the German and European bar and beverage industry meet in Berlin for three days (as of 2018 the BCB will be extended from two to three days) to establish new contacts, catch up on the latest product innovations and attend education seminars. Launched in 2013, Brew Berlin adds a beer-in-bars platform to the Bar Convent Berlin. The Coffee Convent Berlin, which made its debut in 2017, puts the focus on coffee in bars. The Bar Convent Berlin was created by the bar and beverage experts Helmut Adam, Jens Hasenbein and Bastian Heuser. Reed Exhibitions, a leading international trade fair organizer, got on board in 2015. In 2018, the trade show will take place at Station Berlin on 8 and 9 and 10 October. About 12,000 trade visitors are expected to attend.