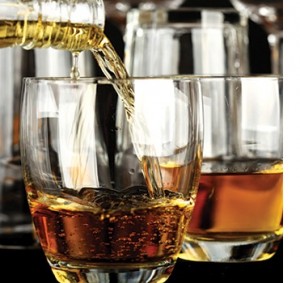 Technomic's 2015 Spirits Tab Report showed that while three of the top five fastest selling spirits brands are vodka, the acceleration in American whiskey sales is seeing a shift in market share bolstered by increased popularity for Bourbon, Tennessee whiskey and rye.
"Two-fifths (40%) of consumers report ordering American whiskey in restaurants and bars at least once a month, and slightly more than one third (35%) order flavoured whiskey," commented Donna Hood Crecca, senior director at Technomic. "About one-third also report ordering Scotch, Canadian or Irish whiskey frequently.
"American whiskey is also the top choice for shot or straight sipping at the bar. The whiskey craze has morphed into a strong trend that's unlikely to falter any time soon."
New Amsterdam Vodka and Tito's Handmade Vodka were among the three fastest-growing vodkas, but the report suggests the category is facing tough times due to difficulties among flavoured variants and imports, and states "we are not projecting accelerated growth for total vodka in 2015".
"A vodka brand with roots in Austin, Texas leads the spirits industry in growth, although it's not the one most might expect," said Eric Schmidt, research director at Technomic. "Deep Eddy Vodka achieved a triple-digit volume gain in 2014 and is poised to break 500,000 nine-litre cases in 2015, propelled by the relevance of its 'local' roots, all-natural flavours and hand-crafted production.
"The brand took off at retail and its marketers are now focusing on national chain restaurants."
Liqueurs and cordials are also forecast to grow by 1.1 million cases off the back of the flavoured whiskey segment.
Source: The Spirits Business