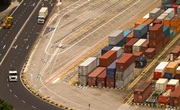 Industrial action at western US ports now looks "unavoidable" say opposing sides in the dispute – putting wine shipments in jeopardy.
The union representing port employees at 29 ports along the western coast has agreed to begin negotiations with employers on May 12, but neither side is optimistic about a quick resolution.
Earlier this month Harpers.co.uk was told by northern California's Bear Creek Winery's Tom Rappé that "one week of strike action would take over a month to resolve – this could be an issue". Given that wine shipping is just a small part of cargo being moved through these ports, it seems inevitable at this stage that delays will be suffered. Although alternative routes exist – such as through Texan ports or via the East coast, this would lead to higher costs and slower passage.
Logistics firm Global Transportations, based in Washington state, said on its website that: "General consensus is that a strike or lockout may occur since the International Longshore & Warehouse Union constituency will view an early settlement as a sign of weakness, and both sides feel that a strike, however long, will most likely be unavoidable. Slowdowns at the port are inevitable. Some are predicting slowdowns to start in June."
It said the "most likely scenario" was that the first week of July will see significant slowdowns or a strike.
Rappé warned that "international customers who have not made early arrangements may be confronted with hurdles". Meanwhile a source at a US-based wine import company, said if the strike takes place is could be a "major problem" for UK buyers of Californian wine, unless precautions have already been taken. It could also threaten supply of New Zealand and Australian wine who use the west coast ports as part of their global distribution route.
Port employees' contracts are up for renewal on July 1, and negotiations have stalled over health and welfare benefits. The ILWU, which represents the staff in 29 west coast ports, is meeting with the Pacific Maritime Association, which represents the carriers and terminals, to discuss the new contracts.
According to the Journal of Commerce, the ILWU has over the years used missed deadlines to secure some of the most lucrative contracts in blue-collar America.
According to the 2013 PMA Annual Report, dockworkers who worked at least 2,000 hours last year had the following average annual earnings: general longshoremen, $137,253; marine clerks, $154,842; and walking bosses/foremen, $213,120.
Source: Harpers
http://www.harpers.co.uk/news/wine-shipments-through-us-ports-in-jeopardy-as-strike-action-unavoidable/356934.article