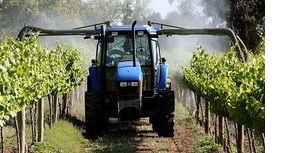 The value of Australian wine exports has risen for the first time since 2007 amid growing demand for premium brands from key trading partners and a weaker Australian dollar.
Vintners exported A$1.82bn (US$1.5bn) of wine last year, up 1.9 per cent on 2013, providing a welcome boost to an economy facing headwinds from a slump in iron ore prices and falls in mining investment.
"One of things that is helping us now is the depreciating currency," says Bruce Tyrrell, chief executive of Tyrrell's Wines, one of the oldest winemakers in Australia.
"The industry is also transforming by selling more premium wines and I believe there is huge growth potential, particularly in Asia."
Australia's economic slowdown after its decade-long mining boom is prompting the government to target agriculture as a growth industry that can help rebalance its resource-dependent economy.
The sector has been battered over recent years due to the strength of the Australian dollar, which made products more expensive in overseas markets. But a fall in the value of the Australian dollar against its US counterpart, from a high of US$0.95 to US$0.82 over the past 12 months, is aiding producers.
"The weaker dollar has provided some assistance to wine exporters over the last year and if it stays where it is now it will provide a real boost next year," says Peter Bailey, manager of wine sector intelligence at Australia's Grape and Wine Authority.
Figures published on Wednesday show total wine export volumes increased by 1.9 per cent to 700m litres. The value of exports increased at the same rate to A$1.82bn, according to the AGWA.
The UK is Australia's biggest export market by volume with 249m litres shipped in 2014, up 4.5 per cent on 2013. Export volumes to the US fell 9 per cent to 164m litres last year following two consecutive record domestic harvests by vintners. Exports to China increased by 8 per cent to 40m litres in 2014. This followed a dip in exports in 2013 following the introduction of austerity measures by Beijing in late 2012.
Mr Tyrrell, whose family has been making wine for 150 years, said there was huge growth potential for Australian agricultural producers in Asia, particularly given the problems facing the European economy.
"We have the potential to feed a whole lot of people in Australia and many people are predicting the price of beef could double in the next few years," he said. "I don't know if it can make up for the fall in iron ore prices but if we didn't have agriculture we'd be in deep doo-doo."
Billionaire mining magnates Gina Rinehart and Andrew Forrest have both bought cattle stations over the past year and indicated they intend to target the Chinese market with exports.
Australia is already one of only eight nations legally permitted to export beef to China, where demand is rising sharply. Shipments quintupled to 155,000 tonnes in 2013.
Economists say agriculture, which makes up 3-4 per cent of gross domestic product compared with mining's 10 per cent, cannot on its own compensate for the end of the resources boom. But it can be part of a wider economic diversication and expansion of sector's including services, technology, tourism and education.
"The wine sector is a micro-level example of how this can happen when the value of the currency falls," says Paul Deane, ANZ agricultural economist. "If you get enough of the trade-exposed sectors to grow then this is when rebalancing can occur."
Source: FT