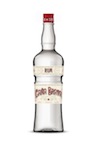 Cana Brava is made from local wild sugar cane from the region that surrounds the distillery. The central province of Herrera, Panama is known for its abundant sugar cane fields that grow in nutrient-rich volcanic soil fed by rivers stemming from mineral-rich mountain springs. The result is cane of the highest sugar content perfect for making molasses for the production of fine rum.
Francisco "Don Pancho" J Fernandez is the Master Distiller at Las Cabres. He made rum in his native Cuba for more than 35 years mastering the "Cuban method" before moving to Panama in the early 90's. He started producing rums again in Panama during the mid-nineties following the traditional and revolutionary methods that he knows better than anyone.
The palate has great pure fresh sugar cane juice and citrus with notes of dark chocolate balanced with molasses, cacao butter, vanilla and spices hinting all spice and cinnamon. Dry but hints of sweetness, medium to full bodied with a silky mouth feel with a finish that is clean, long and surprisingly fruity.
Cana Brava Rum 40% Alc./Vol
Please Enjoy Responsibly
Visit www.canabravarum.com for more information.
Interested in Becoming a Park Street Client?